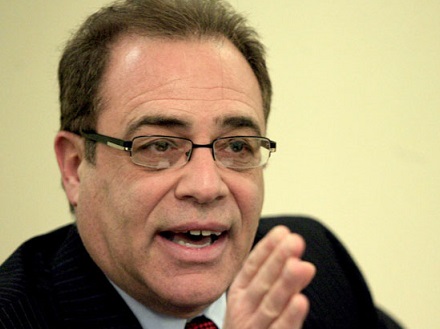 By Bankole Thompson
CHRONICLE SENIOR EDITOR
Detroit Mayor Dave Bing told the media today at the Charles H. Wright Museum of African American History that while he is bowing out of the race for mayor, he is forming an exploratory committee to run for Wayne County Executive.
Bing's announcement of his intention to look into the possibility of a run for Wayne County Executive against incumbent Robert Ficano, whose office has faced federal scrutiny netting convictions in public corruption, comes as a surprise.
Some were expecting that Bing was heading to retirement after finishing his term in office this year.
But political consultant Eric Foster said it is a shrewd political move for Bing to eye the top post in Wayne County, even though the electoral difficulty the mayor would have faced running for re-election in Detroit now, will be magnified in a race for Wayne County executive.
"Detroit is only 38-40 percent of the primary turnout for the Wayne County Executive race next year," Foster said. "Maybe what he is hoping for is that suburbanites will feel empathy for him and that the suburban vote in the other 42 communities in Wayne County will have empathy for him and the struggles he had to face dealing with Detroit."
However, Foster said the strikes of a grander bargain between Bing, Gov. Rick Snyder, Treasurer Andy Dillon and mayoral candidate Mike Duggan "with respect for Duggan to become mayor of Detroit and Bing becomes Wayne County Executive so the two work hand in hand is a move that is a logical play."
Even though Foster maintained that he doesn't have any information regarding
any political deals in the corridors of power concerning Bing's fate, looking at the move that Bing made today by indicating his wish to seek the Wayne County Executive job is a smart one that is out of a political playbook.
"I think it is logical given that Bing and Duggan have had a comfortable working relationship over the years," Foster said.
He said if Bing has the support of the Duggan/Ed McNamara political machine, which is also connected to the Dingell machine (Congressman John Dingell) which is very popular in the Downriver area, "Bob Ficano cannot win another term in office."
Adolph Mongo, another political consultant, in an interview with the Michigan Chronicle Tuesday afternoon described Bing's announcement of an exploratory committee for Wayne County Executive in a very different way.
"I hope it is an April Fools joke, because if you are looking at what is going on in Detroit and the county, the county might end up being in receivership or financial management," Mongo said. "I just don't think at this point he can put a strong team together. But having said that, you can never say never."
Mongo said he doesn't see how "anybody can jump from a fire to a frying pan that might be hotter than the fire."
If Bing decides to take on Ficano, his campaign team would be crucial.
"I would want to know who would run his campaign, and I'm talking about a real campaign. In the last two or three yeas the mayor has not had a political machine," Mongo said. "If he had one he would have run for re-election. The support he had in Detroit has been eroded."
He said unless Ficano "is getting tied into that pay-to-play bribery at the county, Ficano is not politically dead. I don't think Bing can beat Ficano."
E-mail bthompson@michronicle.com.