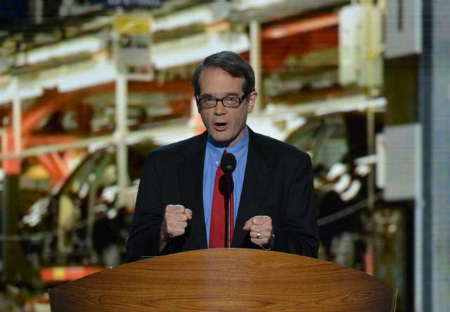 By Bankole Thompson
CHRONICLE SENIOR EDITOR
James Craig, Cincinnati's police chief, is leaving Ohio, heading home to Michigan where he will become chief of the Detroit Police Department.
Officials at city hall have confirmed that Craig has been offered the position and is excitedly looking forward to serving Detroit where he was once a member of the men and women in blue at 1300 Beaubien.
Craig will become the fifth police chief in the last five years in Detroit, heightening expectations from the public as well as stakeholders in terms of what he will do as the new boss of the city's security apparatus.
His record at Cincinnati and Portland as well as other cities where he worked has been praised. But Detroit offers a different scenario, given how many police chiefs the city has had in the last four years.
At Cincinnati, he was the first African- American police chief where he earned a $135,000 salary. It is unclear what his salary in Detroit will be.
Craig will be taking over a department that has gone through unstable leadership changes and is still facing changes, including the U.S. Department of Justice Consent Degree.
He will also be coming in at a time when public safety is the number one issue for most Detroiters as the city goes through a financial recovery with the appointment of an emergency financial manager, Kevyn Orr.
Orr brushed off criticism that it is not his place to name a police chief, saying public safety accounts for half of the city's budget.
Orr in a statement thanked current chief Chester Logan for his service as well as welcomed Craig to Detroit.
""Let me first thank and commend Chief Chester Logan for his decades of service to the city. Chief Logan has selflessly returned from his well-deserved retirement to help lead the Detroit Police Department and we should all be grateful for that," Orr said. "Public safety is, of course, a paramount concern. This is why I am very excited that Chief James Craig of Cincinnati has accepted our offer to be the next chief of the Detroit Police Department. Chief Craig understands the needs of a large, urban police force, having coming up through the ranks of the Los Angeles Police Department and having been the top cop in Portland, Maine and Cincinnati."
Orr said Craig's accomplishments in and accolades for reducing crime and improving community-police relations precede him.
"But just as important is the fact that Chief Craig is a Detroiter. He's a graduate of Cass Technical High School and the Detroit Police Academy and served as a Detroit police officer," Orr said. "Chief Craig brings the experience we need to lead the department and expedite its exit from federal oversight. He will build bridges with the community and brings with him a proven track record of fighting and reducing crime."
E-mail bthompson@michronicle.com