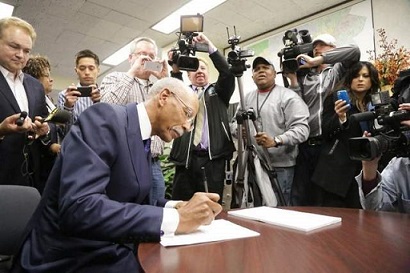 Detroit Mayor Dave Bing announced today he will not run for reelection for the controversial job in the proverbial hot seat in November of this year. His embroiled term in office culminated in the highly contested appointment of an emergency manager to help avoid municipal bankruptcy due to outstanding debt and financial deficits.
But Bing said he will not be content to stay out of the political arena and will form an exploratory committee to run for Wayne County executive.
"Over the last four years, I've made unpopular decisions," Bing told an audience at the Charles H. Wright Museum of African American History. "My devotion to Detroit and Detroiters is unwavering. … I love the compassion, the tenacity and the commitment of Detroiters.
"That's why I stayed," he said.
Bing said his administration has done "a tremendous amount of heavy lifting to prepare the runway" for a transformation, and he's ready to let someone else pick up where he will leave off.
Bing, 69, a former All-Star player for the Detroit Pistons and a successful businessman, ran for mayor in 2009 in a special election to fill the seat of disgraced former MayorKwame Kilpatrick, who's facing years in prison after being convicted on charges of corruption.
Detroiters held out high hopes for Bing, who was widely viewed as an honest and more than competent for Kwame Kilpatrick, who disgraced the office with bribery and fraud charges which he is currently awaiting sentencing on.
But on Tuesday, Bing questioned the state's involvement in some city matters. Orr is expected to announce later this week the appointment of a new police chief, a power under city charter that is reserved for the mayor.
"I have to wonder if the state is truly interested in a partnership," Bing said at the Charles Wright Museum.
Several mayoral candidates have exceeded Bing in poll popularity, specifically Wayne County Sheriff Benny Napoleon and former Detroit Medical Center CEO Mike Duggan.
About Post Author