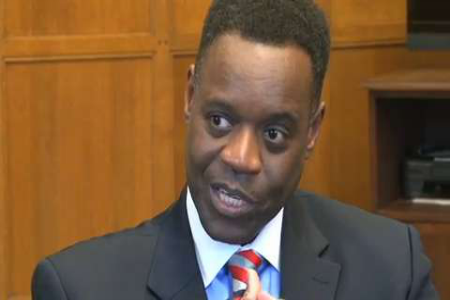 Kevyn Orr, the man charged with bringing Detroit back to financial stability said he is surprised at the numbers that will be released on Monday when the Emergency Financial Manager discloses his operating financial plan to the state and the public. The plan is coming out barely two months after Orr took over at city hall to right the financial ship of Detroit's local government whose debt obligations are in the billions.
Orr, during an exclusive interview with the Michigan Chronicle's Bankole Thompson ahead of Monday's announcement said the city is in the first steps of a very long journey and the numbers are what they are.
"First thing you are going to see is sort of a fair snap shot of what we've been able to discern from sort of a document of the city as to the city's financial status. My operating financial plan is coming out on Monday," Orr said. "The plan is going to be sort of an analysis of the best information we have available as what the city's condition is. I think it is fair to say at least my initial perception is that our debt service and debt obligation is probably worse than we've expected. To put it in a vernacular we are deeper in a hole than I thought we were."
Since Orr took over the reigns of government in Detroit after Gov. Rick Snyder named him emergency manager, many have been waiting to see what "bold" steps would be taken to get the city on a path to financial recovery.
Even though his presence is still being protested by some who disagreed that Detroit does not need an emergency manager, a sentiment that rings true with some of the city's civil rights activists, Orr in the interview said the numbers about the city's situation cannot be debated.
"It just means that the numbers are going to be bigger than have previously been discussed. It means that the challenges and negotiations with the interested parties are probably going to be a little bit more intense because it's more at stake," Orr said. "There's more money on the table. There is more attention. Our revenue projections are precarious."
He said historically for instance some of the way the city has budgeted, taken on a debt to try to make a balance budget while deferring payments with some obligations to make for financial shortfalls did not help matters.
"When I say it's worse than expected, if the city were to try to run and meet its debt obligations on an ongoing forward basis- based on what it takes in revenue fees and other incomes and balance that against what it's obligations are paid in the in the ordinary cause that would be very challenging," Orr said.
The million-dollar question is whether the parties tied to the financial wellbeing of the city including labor, creditors and others can negotiate a plan or reach an agreement?
Orr when he was introduced to the public during a press conference with Gov. Snyder sounded a reconciliatory note saying he believes parties of good faith can negotiate in good faith.
Asked if he still believes that after Monday's report is announced, he said yes.
"I really do and this is why I mentioned the financial operating plan. I'm going to be fully open with everything. That includes labor, debt holders, citizens, elected officials and the press. Let's just get it all out there the best we can," Orr said. "Nobody really can debate the numbers. They are what they are. The math is the math. So now the next step becomes what are we going to do about it. I'm assuming rational behavior that everybody wants to get the city to a position that is both on a sustainable path, a path for growth and a healthier going forward financial practice."