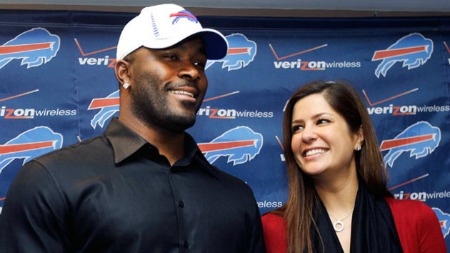 Buffalo Bills defensive end Mario Williams (pictured left), who reportedly has a six-year, $100 million contract, with $50 million guaranteed with the team, wants the $785,000 10-carat engagement ring he gave to former fiancée, Erin Marzouki (pictured), back and is taking her to court to make sure he gets it, according to the Bleacher Report.
The Houston-based lawsuit reportedly alleges that Marzouki never loved Williams and was only in the relationship for monetary gain. As per the legal document:
[Marzouki] never intended to marry [Williams] and used the relationship as a means to get to [Williams'] money and acquire gifts, according to the Bleacher Report.
The couple reportedly split up last January, when Marzouki decided to call it quits on the relationship. When the two-time Pro-Bowler reportedly asked for the ring back on several occasions, Marzouki allegedly failed to comply.
Williams and Marzouki got engaged on February 19th last year.
The 28-year-old NFL player, whose contract has been deemed one of the most lucrative in NFL history, not only gave his ex the ring, but reportedly also handed her an American Express card a month earlier to which she charged more than $108,000 then added an additional $230,000 worth of "luxury items" according to the lawsuit.
When Marzouki called off the engagement, she allegedly failed to return the ring, and according to Williams' legal team, she promised to do so if her relationship with Williams came to an end.
In the meantime, Williams' lawyers are requesting a restraining order and permanent injunction that bars Marzouki and anyone associated with her from doing anything with the ring like selling or even damaging it in any way.
Reportedly, Williams has a good chance of winning the ring back because he lives in the "no-fault" Lone Star state. In Texas, the person giving the ring is legally allowed to ask for its return "on breach of the marriage engagement" by the donee.
About Post Author