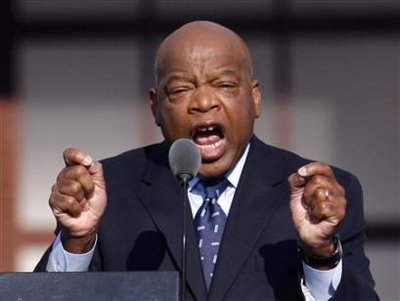 When Detroit's most notable citizens, dignitaries and government officials gathered at the Max M. Fisher Music Center next to Orchestra Hall on Friday, May 10 for the 15th annual Ford Freedom Awards, the event took on an historic air all its own. The celebration of "Quiet Heroes," moderated by WXYZ Channel 7 news anchor Linda Lewis commemorated the struggles and sacrifices of those who dedicated their lives to the freedoms African Americans enjoy.
"This is a time to lay down the foundation for the freedoms that we enjoy. It is a time to celebrate history. It is also a time to embrace our role in moving forward. This is when we say, 'what can we do in moving foward into our future?'
Many of Michigan's most respected citizens joined with Ford Motor Company executives to honor three of the nation's greatest civil rights activist. Johnnie Carr and Viola Liuzzo were honored posthumously, and the honorable Congressman John Lewis received the Ford Freedom Scholar Award.
Viola Liuzzo was a homemaker and mother of five children when she was murdered by Klu Klux Klan members in 1965 while working with civil rights activists in Alabama. She was killed while driving with a black passenger along a rural highway. They had been working to register black Southerners to vote during the civil rights movement. Liuzzo's daughter, Sally Liuzzo accepted on behalf of her mother. And Carr's son, Arlo accepted on behalf of his mother, Johnnie Carr.
Johnnie Carr died in 2008 at 97. She was an early activist in Montgomery, helping to launch the career of Dr. Martin Luther King Jr., and succeeding him as president of the Montgomery Improvement Association, a group that fostered integration without confrontation. Carr was a long-time and close personal friend of Rosa Parks, and when Parks left Montgomery to work for Dr. King, Carr stayed in their hometown to carry on the fight for civil rights. At Friday's event, Carr, was named the posthumous Ford Freedom Honoree.
U.S. Congressman John Conyers presented legendary and beloved civil rights activist, Congressman John Lewis with the Ford Freedom Scholar Award. Lewis explained that when he was going up in Troy, Alabama, only 50 mile from Montgomery, and he asked his parents about segregation they responded, "That's the way it is. Don't get in trouble, don't get in the way" He added, "But I heard about Rosa Parks, heard the words of Dr. Martin Luther King on an old radio and they inspired me to get in the way and get in trouble. So for more than 50 years I have been getting in trouble and I am going to get in more trouble."
Lewis comented that when asked ask whether or not the election of Barack Obama is the fulfillment of Dr. King's dream, "I say 'no.' It's just a down payment."
The Ford Freedom Fund Awards raise more than $200,000 for the Charles H. Wright Museum of African American History, said Juanita Moore, president and CEO of the museum
Guests and honorees at the 2013 event were entertained following the awards ceremony by Grammy-winning R&B singer Eric Benet.
The Ford Freedom Awards program is made possible by a grant from Ford Motor Company. Proceeds of the event benefit the Charles H. Wright Museum of African American fundraising efforts. –roz edward
For more information, please visit www.fordfreedomaward.com.