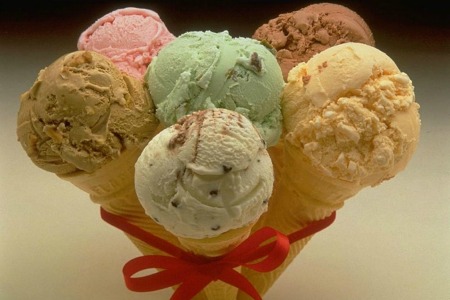 LANSING – With Pure Michigan Caramel Apple ice cream becoming a new household favorite, Hudsonville Ice Cream and Pure Michigan are asking fans to submit their ideas for Pure Michigan's next official ice cream flavor.
The contest for the next great Michigan-inspired ice cream flavor kicks off today and will help promote the bounty of food and agricultural products available to Michigan visitors and residents alike.
"We had so much fun asking fans to create the taste of Michigan last summer, we knew we had to do it again," said Caryn Beatty of Holland, Michigan-based Hudsonville Ice Cream. "We know the passion that exists for Michigan and that generates great, creative ideas."
The Pure Michigan ice cream contest runs through May 22, and the winning flavor will be selected by Hudsonville Ice Cream. The winning flavor will be announced on June 21 – the first day of summer – and will go into production over the summer for distribution beginning this fall and winter.
Flavor contest entries may be submitted on Hudsonville Ice Cream's website at hudsonvilleicecream.com/puremichigan. The grand prize for the winning ice cream flavor includes a two night stay at Grand Hotel on Mackinac Island, a year's supply of Hudsonville ice cream and Pure Michigan merchandise.
"Nothing says America's perfect summer like ice cream and Pure Michigan," said George Zimmermann, Vice President of Travel Michigan, part of the Michigan Economic Development Corporation. "This is a terrific opportunity to engage with our fans and showcase the wide variety of flavors to be found throughout the state."
Last year more than 3,000 flavor suggestions were submitted to determine the official Pure Michigan ice cream flavor of Michigan state parks. Flavors ranged from Tahquamenon Falls Root Beer Sundae to Hex Hatch Jubliee, with Pure Michigan Caramel Apple taking the top prize.
The Pure Michigan Caramel Apple flavor was the second most popular limited edition flavor in the Hudsonville lineup last year, selling more than double the quantity expected.
"Pure Michigan Caramel Apple was extremely successful and we look forward to creating the next great Pure Michigan ice cream flavor," said Beatty.
Travel Michigan, part of the Michigan Economic Development Corporation, markets the state's tourism industry and provides valuable visitor information services. For Michigan travel news and updates, go to michigan.org.
The Michigan Economic Development Corporation (MEDC) serves as the state's marketing arm and lead agency for business, talent and jobs, with a focus on helping grow Michigan's economy. For more on the MEDC and its initiatives, visit: MichiganAdvantage.org.
Contact: Michelle Begnoche
517-241-0251
Begnochem@michigan.org

About Post Author