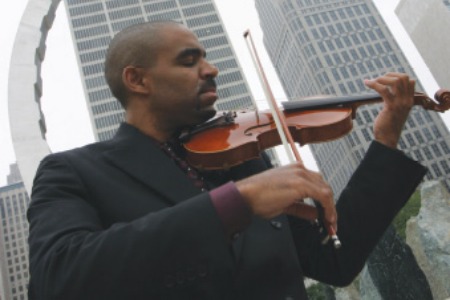 Sphinx founder and president, Aaron P. Dworkin, was recently honored by the prestigious Royal Philharmonic Society as an honorary member, joining the ranks of iconic figures of classical music, Brahms, Mendelssohn, Wagner, Tchaikovsky, Verdi, Berlioz and others.
Only awarded 130 times in the Royal Philharmonic's 200-year history, honorary membership in the Society is a significant honor bestowed upon musicians of distinction who have contributed outstanding services to music. Dworkin was one of only five honorees selected this year and the only honoree from the United States.
The Sphinx organization gives opportunities and assistance to aspiring Black and Latino musicians and has changed the face of orchestras in the USA. Its mission is for classical music to embrace the diversity inherent in the society that it strives to serve.
Key programs range from an annual series at Carnegie Hall featuring top young musicians of color, to the national Sphinx Competition for young Black and Latino string players, an international convening on diversity in the arts (SphinxCon), two summer programs, along with a year-round grassroots educational program, the Sphinx Overture.
Before 1996 when Sphinx was founded, solo performances in the USA by musicians of color were rare. There were no Black and Latino symphony orchestras — Sphinx now runs two — and Black members of America's largest orchestras accounted for only 1.4% of orchestral players.
To date, Sphinx has reached more than 100,000 students in 200 schools across America and more than two million individuals annually through live and national broadcasts. It has provided $300,000 in quality instruments to young minority musicians, with $2,000,000 in prizes and scholarships administered to Sphinx Competition Semi-Finalists and 260 orchestral performances reaching more than 250,000 people.
Sphinx has a broad reach. The number of Black members of USA orchestras has doubled in major orchestras. In all instances, the member was a Sphinx alumni, a Sphinx Symphony Orchestra member, or the orchestra is Sphinx partner.
In addition to the Royal Philharmonic honor, Dworkin, an accomplished acoustic and electric violinist, was named a 2005 MacArthur fellow, a member of the Obama National Arts Policy Committee and was President Obama's first appointment to the National Council on the Arts.
For more information about the Sphinx Organization visit sphinxmusic.org.