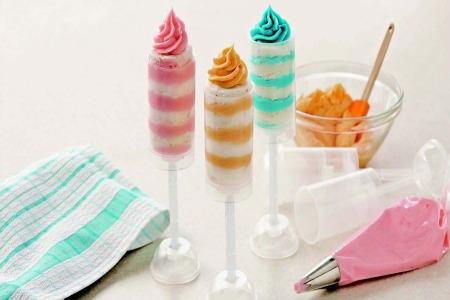 Welcome the arrival of warm weather with sunny colors, vibrant flavors and the newest baking trend – cake push pops. These treats add a dash of family-friendly fun for gatherings, graduations and birthday parties.
"These cake push pops are easy to create and make any celebration an unforgettable one," said Mary Beth Harrington of the McCormick Kitchens. "A variety of colors and flavors can be mixed together to form a flavorful, one-of-a-kind treat that's sure to make a lasting impression."
Using an angel food cake base and white frosting, the color and flavor combinations are endless with these cake push pops. For a fruity sweet treat, think orange cream or blue raspberry, and for a refreshing twist on a favorite summer sip, pink lemonade will please anyone's palette.
For even more variations and baking inspiration, visit www.McCormick.com or www.Facebook.com/ MccormickSpice. Also, visit the "Cakes to Crave" board at www.Pinterest.com/McCormickSpices to find other cakes and flavors to turn into push pops.
Angel Food Cake Push Pops with
Pink Lemonade Frosting
Prep Time: 30 minutes
Makes: 8 cake push pops
1 package (10 ounces) round angel food cake
1 cup (2 sticks) butter, softened
1 teaspoon McCormick® Pure Lemon Extract
1 box (16 ounces) confectioners' sugar, sifted
2 tablespoons milk
6 drops McCormick® Red Food Color
8 cake push pop molds
Cut angel food cake into 1/2-inch thick layers. Cut out 32 rounds with the same diameter as the push pop molds. For easier cutting, press out cake rounds with a round cookie cutter. Set aside.
Beat butter in large bowl with electric mixer on medium speed until light and fluffy. Add lemon extract, mix well. Gradually add confectioners' sugar, beating until well blended after each addition and scraping sides and bottom of bowl frequently. Add milk and red food color; beat until light and fluffy. Fill piping bag fitted with a small plain tip with frosting.
For each push pop, pipe a small amount of frosting into push pop mold. Place 1 cake round into tube, pressing, into the frosting. Top with a small amount of frosting and a second cake round. Repeat layering for a total of four cake layers. Top with frosting.
Test Kitchen Tips:
• Cake push pop molds are available in the cake decorating aisle of craft and party stores and online specialty stores.
• In place of angel food cake, use your favorite baked cake if you prefer.
If you don't have push pop containers, use small, clear cups or Mason jars instead to create mini trifles, perfect for any gathering.