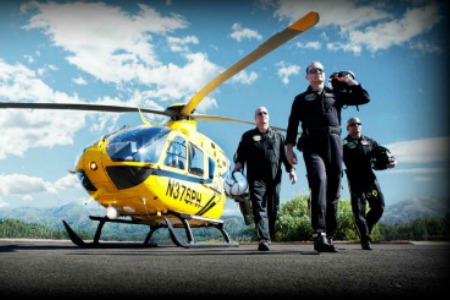 "You Drink. You Drive. We Fly" advocacy campaign targets role of alcohol in injury, disease and death
Beaumont One and PHI Air Medical, L.L.C. have launched a nationwide effort to educate local communities they serve about alcohol awareness during the month of April. The National Council on Alcoholism and Drug Dependence has designated the month to raise public awareness of alcohol-related injuries, diseases and deaths.
"The fact that one in 12 adults in our country either abuse or are dependent on alcohol is something that our company and crews do not take lightly," explains Sean O'Neal, regional director for Beaumont One/PHI Air Medical, L.L.C. "Our focus with the 'You Drink. You Drive. We Fly' campaign is to arm the communities we serve, people of all ages and backgrounds, with the facts related to alcohol use. Through distribution of materials and educational resources, we hope to raise awareness and help to prevent the alcohol-related accidents our crews see first-hand, all too often."
The campaign will include a variety of local events, social media messaging and community-wide grassroots efforts
Local fire and police, high school students and Beaumont One crew members will stage a mock car crash designed to raise awareness of the dangers of drinking and driving during prom season on:
* Tuesday, May 7, 12:30 p.m. Hartland High School, 10635 Dunham Road, Hartland
* Wednesday, May 15, 1 p.m. Southfield High School, 24675 Lahser Road, Southfield (Rain date: May 16)
The facts on alcohol abuse and alcoholism are alarming:
* 79,000 deaths are annually attributed to excessive alcohol use
* Alcoholism is the third leading lifestyle-related cause of death in the nation
* Up to 40 percent of all hospital beds in the United States (except for those being used by maternity and intensive care patients) are being used to treat health conditions related to alcohol consumption
* One in 12 adults either abuse alcohol or are alcohol-dependent
"Our crews are the ones at the scene providing critical care for these patients, so we believe we have a responsibility to provide support and education about the dangers of alcohol in the communities we serve," continued O'Neal.
"Approximately one out of every three motor vehicle accidents is related to alcohol" says Patrick Pettengill, M.D., emergency medicine specialist and Beaumont One medical director "As an ER physician, I have seen the results of drinking and driving and it is not pleasant. I am happy to be working with PHI Air Medical to educate our community about the dangers of drinking and driving."
# # #
About PHI Air Medical
PHI Air Medical, LLC is a wholly owned subsidiary of PHI Inc., the world leader in rotary flight for more than 50 years, and provides support for many of the nation's leading health care organizations. PHI Air Medical pilots have recorded more than 10 million flight hours, in virtually every type of helicopter and terrain known. The Air Medical fleet consists of proven aircraft outfitted with medical interiors conducive to providing sustained emergent care for air medical transports and most PHI Air Medical programs operate at or above Commission on Accreditation of Medical Transport Systems (CAMTS) standards. PHI Air Medical headquarters are located in Phoenix, Arizona.
About Beaumont's Level I Trauma Center
Beaumont, Royal Oak is the only hospital in Oakland and Macomb counties, and one of nine in Michigan, that is a Level I trauma center, the highest designation for trauma care. In 2011, Beaumont cared for 1,406 trauma patients.
At Beaumont's Level I trauma center:
* Surgeons are on-call 24/7 and in the hospital within 15 minutes of a critically injured patient's arrival.
* Dedicated, full-time flight service- Beaumont One helicopter medical transportation service
* A helipad is available for patients who need to be airlifted.
* The doctors and nurses are all specially trained in trauma care.
* State-of-the-art diagnostic and testing equipment are available.
* The trauma team is ready when the patient arrives and cares for him throughout his hospital stay.
* Family support is available, including social workers and pastoral care.
* A trauma registry is kept to aid trauma research.
______________________
If you would rather not receive future communications from Beaumont Hospitals, please go to http://www.beaumont.edu/
Beaumont Hospitals, 3601 W 13 Mile Road, Royal Oak, MI 48073 United States