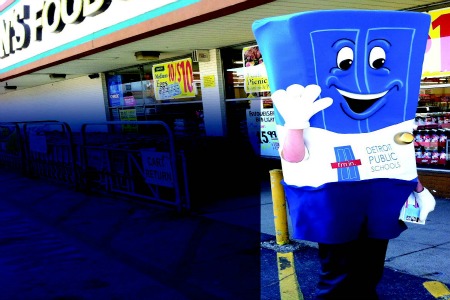 DPS enrollment fell to about 52,503 as a result of 15 schools being transferred to the Education Achievement Authority of Michigan (EAA), a state reform district that can assume control of poor performing schools. A decade ago, DPS comprised 164,000 students. The sharp enrollment decline is a result of many factors, including competition with charter and suburban schools and the EAA. Officials project that enrollment could continue to decline over the next five years.
In a letter written to DPS employees in late January of this year, Roy Roberts, the state-appointed emergency financial manager, wrote, "We're going on the offense! No longer are we going to create plans designed around assumptions of failure. Instead of planning to fail, we're planning to win by attracting students to our district's classrooms."
This month, the district unveiled a new strategic plan titled "Neighborhood-Centered, Quality Schools." The plan was designed specifically to compete with other schools that have been attracting Detroit students. Acknowledging the competition is good, Roberts said, "From this point forward, we're planning to win, not to lose."
Highlights of the plan, which will be rolled out over the next three years, include expanded pre-kindergarten classes to 4-year old children, some parenting, job skills and other training, extended academic school years, and art and music enrichment programming.
Roberts said that DPS will evolve to address the needs of students and families.
"Nobody's going to give us any students. We have to go out and take them," he said.