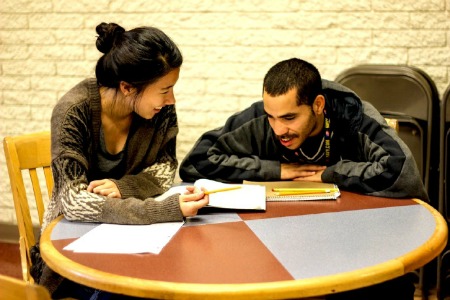 Medical students are a pretty busy bunch: studying, memorizing, exams, high expectations, late-night rounds and grueling clinicals all contribute to a hectic schedule. Yet, a local group of these future health care providers make time each week to help kids at Covenant House Michigan with tutoring and mentoring.
Wayne State University medical students come to CHM on a weekly basis. Their help makes it possible for the young people to finish their high school diploma, complete a GED or begin college without having to feel like they are on their own once they walk out of the classroom.
For Zoya Gavrilman, who coordinates the tutors' schedules, the learning experience that takes place for both tutors and kids keeps her involved. "It isn't easy to forget an experience like tutoring kids in downtown Detroit," Gavrilman says. "Being a part of this community has definitely been a transition for me, having never lived in a large city previously. Seeing what these kids have to deal with every day is something that I should always keep in the back of my mind, knowing that the harder I work and the more I learn, the more I'll be able to help those who need it when the time comes."
One of the most exciting experiences she had tutoring was when a kid came to her with a progress report. "A student once told me that he had advanced several grade levels in just a few months and that our tutoring had helped him with this process," said Gavrilman. Nabil Al-Kourainy, a program coordinator for the WSU students and tutor for the past four years, likes to highlight the "Covenant House Tutoring" group when people ask about his time in Detroit. "I always tell them about Covenant House Michigan," Al-Kourainy said. "I can't believe the wonderful programs and services they provide. It is such a resource to the city."
For one of the tutors, Fariha Hussain, the good experience she had tutoring in undergrad brought her to Covenant House. She loved knowing that she could open a student's eyes to see the beauty of a subject they didn't like before.
"Originally I got involved as I was excited about helping this age group. I knew I would be comfortable with high-school level materials and wanted to help these students who missed out on so much of the education they should have received at a much younger age," said Hussain. "One of the things I really like about tutoring is that is it customizable. You take the kids where they are, go back to basics and build on the knowledge they have to get them to the next level."
Another tutor, Shawn Stewart, sees the experience of working in the city as a way to learn how to relate to a broader range of patients in his future work. "When I started at Wayne State, I knew that I wanted to be involved with the community and to actually get a feel for how the city runs and operates," Stewart said. "I've wanted the chance to be able to see the type of people and the experience that this city has had to endure. And I know that for those in the Covenant House, this may not always have been enjoyable. It was especially for that reason that I wanted to be able to help the kids who truly want to help themselves even though life may have had its difficulties. Their will to accomplish great things in their lives that I've seen and heard since volunteering is why I stick with it. It's a rare quality that I would love to see more of. A few of my students expressed interest in medicine and college life, and I wouldn't be surprised if one day they come back in the next generation of tutors themselves. And that makes me happy."
One of the best experiences he had while tutoring actually wasn't even tutoring. While working with DeJuan, a CHM resident who wanted to do his taxes for his new jobs, the two hit it off like friends and laughed and talked the whole time. To Stewart, it proved the point that circumstances really do not matter and that people can connect in many ways.
"In fact, he even taught me a few things that day," Stewart said. "So it isn't just about the tutors coming to teach the kids, but more often than not, for the kids to teach the tutors." The CHM residents are grateful for the help they receive in cracking algebra codes, checking grammar and preparing for their SAT or ACT tests. The driving factor for the Wayne State University medical students is that are excited to have the opportunity to make a difference in the lives of the young people at Covenant House Michigan and want to help them with their educational gaps.