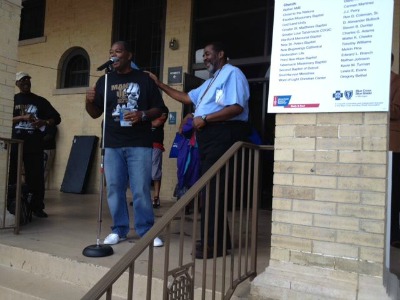 Body burnout is a growing issue among congregants and faith-based leaders across Detroit. Faced with evidence that escalating obesity rates are contributing to major health challenges from type 2 diabetes, heart disease, high blood pressure and other serious conditions, alarmed pastors are taking action.
And through participation in programs like the Body & Soul and Blues' Community Challenge, they are inspiring congregants to take small steps toward better health.
A sense of trust and interrelationship is a critical component of the 12-week campaign supported by the American Cancer Society, which relies upon the powerful bond between congregants to fuel change.
"There's an undeniable love that exists between pastors and fellow brothers and sisters of the church," says Bridget Hurd, vice president of Community Relations at Blue Cross Blue Shield of Michigan. "And, when congregants receive a message or call to action delivered within this environment, they have uncommon confidence that it is rooted in love and a concern for our well-being."
A MOVING MESSAGE
More than 70 churches are participating in the program, which provides participants with community support and friendly competition while empowering them to take responsibility for their health.
Education is a critical component of the effort, which focuses on raising awareness of the importance of activity, particularly walking.
Adults who include at least 150 minutes of physical activity in their routines each week live longer than those who don't, according to a study published in the American Journal of Preventative Medicine.
Armed with such knowledge, many pastors are leading walking clubs that provide congregants with social engagement, healthy peer pressure and motivation to make scheduled activity a part of their everyday lives.
FEELING GOOD – INSIDE & OUT
"This challenge is simply not about losing weight, however," notes Hurd. "It's about the accomplishment that comes from managing health conditions and feeling good both inside and out."
CUSTOM-BUILT
Unlike other programs, the Body& Soul Blues Community challenge program does not advocate a prescriptive one-size-fits-all plan . Instead, it offers a framework of educational tools that church leaders can customize to draw upon the many talents of its church members to sustain.
Common elements include celebrating good health through healthy eating and activity that helps parishioners increase their consumption of fruits and vegetables to prevent chronic disease, while incorporating more physical activity into their day-to-day routine.
Editor's Note: LivingWELL Magazine will be covering the Body & Soul and Blues' Community Challenge efforts in upcoming issues.
SIDEBAR
About the Body & Soul and Blues' Community Challenge
Churches gain points completing a community partner checklist of fifteen activities, which offer various health and wellness opportunities to take part in to enhance their congregation's healthy living practices, including:
Tracking of physical activity through the Blues Walking Works® tracking tool.
Enrollment assistance training hosted by the Blues to help the uninsured gain access to the State's health insurance programs.
Attending health-awareness workshops and participating in the programs provided by the community partners on cancer, heart disease and diabetes prevention
Participating in local, organized community partner group walks:
American Heart-June 8
Relay for Life-June 3
Diabetes Walk-Sept 14
Winning congregations receive grants ranging from $250, $500 and $1,000 to support their healthy ministry efforts.