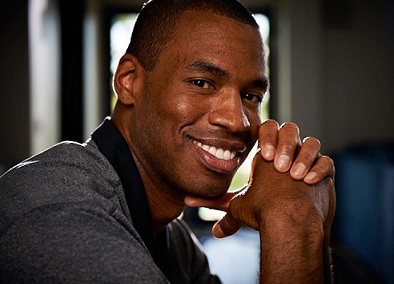 "I'm a 34-year-old NBA center. I'm black. And I'm gay," says Jason Collins.
My maternal grandmother was apprehensive about my plans to come out. She grew up in rural Louisiana and witnessed the horrors of segregation. During the civil rights movement she saw great bravery play out amid the ugliest aspects of humanity. She worries that I am opening myself up to prejudice and hatred. I explained to her that in a way, my coming out is preemptive. I shouldn't have to live under the threat of being outed. The announcement should be mine to make, not TMZ's.
The hardest part of this is the realization that my entire family will be affected. But my relatives have told me repeatedly that as long as I'm happy, they're there for me. I watch as my brother and friends from college start their own families. Changing diapers is a lot of work, but children bring so much joy. I'm crazy about my nieces and nephew, and I can't wait to start a family of my own.
***
I'm from a close-knit family. My parents instilled Christian values in me. They taught Sunday school, and I enjoyed lending a hand. I take the teachings of Jesus seriously, particularly the ones that touch on tolerance and understanding. On family trips, my parents made a point to expose us to new things, religious and cultural. In Utah, we visited the Mormon Salt Lake Temple. In Atlanta, the house of Martin Luther King Jr. That early exposure to otherness made me the guy who accepts everyone unconditionally.
I'm learning to embrace the puzzle that is me. After I was traded by the Celtics to Washington in February, I took a detour to the Dr. King memorial. I was inspired and humbled. I celebrate being an African-American and the hardships of the past that still resonate today. But I don't let my race define me any more than I want my sexual orientation to. I don't want to be labeled, and I can't let someone else's label define me.
On the court I graciously accept one label sometimes bestowed on me: "the pro's pro." I got that handle because of my fearlessness and my commitment to my teammates. I take charges and I foul — that's been my forte. In fact, during the 2004-05 season my 322 personals led the NBA. I enter the court knowing I have six hard fouls to give. I set picks with my 7-foot, 255-pound body to get guys like Jason Kidd, John Wall and Paul Pierce open. I sacrifice myself for other players. I look out for teammates as I would my kid brother.
I go against the gay stereotype, which is why I think a lot of players will be shocked: That guy is gay?
I'm not afraid to take on any opponent. I love playing against the best. Though Shaquille O'Neal is a Hall of Famer, I never shirked from the challenge of trying to frustrate the heck out of him. (Note to Shaq: My flopping has nothing to do with being gay.) My mouthpiece is in, and my wrists are taped. Go ahead, take a swing — I'll get up. I hate to say it, and I'm not proud of it, but I once fouled a player so hard that he had to leave the arena on a stretcher.
I go against the gay stereotype, which is why I think a lot of players will be shocked: That guy is gay? But I've always been an aggressive player, even in high school. Am I so physical to prove that being gay doesn't make you soft? Who knows? That's something for a psychologist to unravel. My motivations, like my contributions, don't show up in box scores, and frankly I don't care about stats. Winning is what counts. I want to be evaluated as a team player.
Loyalty to my team is the real reason I didn't come out sooner. When I signed a free-agent contract with Boston last July, I decided to commit myself to the Celtics and not let my personal life become a distraction. When I was traded to the Wizards, the political significance of coming out sunk in. I was ready to open up to the press, but I had to wait until the season was over.
A college classmate tried to persuade me to come out then and there. But I couldn't yet. My one small gesture of solidarity was to wear jersey number 98 with the Celtics and then the Wizards. The number has great significance to the gay community. One of the most notorious antigay hate crimes occurred in 1998. Matthew Shepard, a University of Wyoming student, was kidnapped, tortured and lashed to a prairie fence. He died five days after he was finally found. That same year the Trevor Project was founded. This amazing organization provides crisis intervention and suicide prevention to kids struggling with their sexual identity. Trust me, I know that struggle. I've struggled with some insane logic. When I put on my jersey I was making a statement to myself, my family and my friends.
Jason (right) and Jarron Collins were both drafted in 2001 after attending Stanford.
AP
The strain of hiding my sexuality became almost unbearable in March, when the U.S. Supreme Court heard arguments for and against same-sex marriage. Less then three miles from my apartment, nine jurists argued about my happiness and my future. Here was my chance to be heard, and I couldn't say a thing. I didn't want to answer questions and draw attention to myself. Not while I was still playing.
I'm glad I'm coming out in 2013 rather than 2003. The climate has shifted; public opinion has shifted. And yet we still have so much farther to go. Everyone is terrified of the unknown, but most of us don't want to return to a time when minorities were openly discriminated against. I'm impressed with the straight pro athletes who have spoken up so far — Chris Kluwe, Brendon Ayanbadejo. The more people who speak out, the better, gay or straight. It starts with President Obama's mentioning the 1969 Stonewall riots, which launched the gay rights movement, during his second inaugural address. And it extends to the grade-school teacher who encourages her students to accept the things that make us different.
***
By its nature, my double life has kept me from getting close to any of my teammates. Early in my career I worked hard at acting straight, but as I got more comfortable in my straight mask it required less effort. In recent days, though, little has separated "mask on, mask off." Personally, I don't like to dwell in someone else's private life, and I hope players and coaches show me the same respect. When I'm with my team I'm all about working hard and winning games. A good teammate supports you no matter what.
I've been asked how other players will respond to my announcement. The simple answer is, I have no idea. I'm a pragmatist. I hope for the best, but plan for the worst. The biggest concern seems to be that gay players will behave unprofessionally in the locker room. Believe me, I've taken plenty of showers in 12 seasons. My behavior wasn't an issue before, and it won't be one now. My conduct won't change. I still abide by the adage, "What happens in the locker room stays in the locker room." I'm still a model of discretion.
As I write this, I haven't come out to anyone in the NBA. I'm not privy to what other players say about me. Maybe Mike Miller, my old teammate
in Memphis, will recall the time I dropped by his house in Florida and say, "I enjoyed being his teammate, and I sold him a dog." I hope players swap stories like that. Maybe they'll talk about my character and what kind of person I am.
As far as the reaction of fans, I don't mind if they heckle me. I've been booed before. There have been times when I've wanted to boo myself. But a lot of ill feelings can be cured by winning.
I'm a veteran, and I've earned the right to be heard. I'll lead by example and show that gay players are no different from straight ones. I'm not the loudest person in the room, but I'll speak up when something isn't right. And try to make everyone laugh.
I've never sought the spotlight. Though I'm coming out to the world, I intend to guard my privacy. I'm making this blanket statement in part to keep rumors and misunderstandings at bay. I hope fans will respect me for raising my hand. And I hope teammates will remember that I've never been an in-your-face kind of guy. All you need to know is that I'm single. I see no need to delve into specifics.
I've been asked how other players will respond to my announcement. The simple answer is, I have no idea. I'm a pragmatist. I hope for the best, but plan for the worst.
Look at what happened in the military when the Don't Ask, Don't Tell policy was repealed. Critics of the repeal were sure that out military members would devastate morale and destroy civilization. But a new study conducted by scholars from every branch of the armed forces except the Coast Guard concluded that "cohesion did not decline after the new policy of open service was put into place. In fact, greater openness and honesty resulting from repeal seem to have promoted increased understanding, respect and acceptance."
The same goes for sports. Doc Rivers, my coach on the Celtics, says, "If you want to go quickly, go by yourself — if you want to go farther, go in a group." I want people to pull together and push ahead.
Openness may not completely disarm prejudice, but it's a good place to start. It all comes down to education. I'll sit down with any player who's uneasy about my coming out. Being gay is not a choice. This is the tough road and at times the lonely road. Former players like Tim Hardaway, who said "I hate gay people" (and then became a supporter of gay rights), fuel homophobia. Tim is an adult. He's entitled to his opinion. God bless America. Still, if I'm up against an intolerant player, I'll set a pretty hard pick on him. And then move on.
The most you can do is stand up for what you believe in. I'm much happier since coming out to my friends and family. Being genuine and honest makes me happy.
I'm glad I can stop hiding and refocus on my 13th NBA season. I've been running through the Santa Monica Mountains in a 30-pound vest with Shadow, the German shepherd I got from Mike Miller. In the pros, the older you get, the better shape you must be in. Next season a few more eyeballs are likely to be on me. That only motivates me to work harder.
Some people insist they've never met a gay person. But Three Degrees of Jason Collins dictates that no NBA player can claim that anymore. Pro basketball is a family. And pretty much every family I know has a brother, sister or cousin who's gay. In the brotherhood of the NBA, I just happen to be the one who's out.