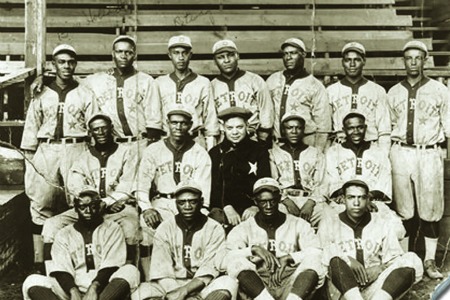 They were exciting. They were proud. They were incredibly good. They were the Detroit Stars, the legendary Black baseball team that captivated the hearts and souls of Negro National League baseball fans in Detroit and beyond from 1919 to 1933. While White major league players, such as Ty Cobb and Babe Ruth, were deemed the superstars of baseball in their playing days, there were numerous Black players of the era who were just as good — if not better — but never got the recognition or opportunity to showcase their talents to the world, simply because their skin was black. Yet, in Detroit, Chicago, Kansas City, Pittsburg, St. Louis and many other American cities, both large and small, Negro ballplayers treated fans to an electrifying brand of baseball, rarely seen.
To truly appreciate the Detroit Stars and the Negro Leagues, one must go back in history to 1860, the year that many baseball historians believe the first baseball game between two Black teams was played. The game: the Weeksville of New York versus the Colored Union Club. The Weeksville won 11-0. This historic game occurred about 14 years after historians believe the first ever baseball game was played.
Approximately five years after the Weeksville-Colored Union Club game, Black baseball teams such as the Monitor Club of Jamaica (New York), the Blue Sky Club of Camden (New Jersey), the Bachelors of Albany (New York), the Unique Club of Chicago and many others began to form. While Blacks frequently played other Black teams, there are accounts that white teams played Black teams, drawing interracial crowds of thousands without incidents of racial hatred.
However, as time progressed and the game became more organized, business oriented, financially rewarding…and racist, a so-called "gentleman's agreement" was struck between White owners that would keep Black players from signing to play in major and minor league baseball systems. This unwritten agreement held up from around 1880 until 1947, although there were some rare instances where Blacks were able to usurp the system, especially when it benefited White owners financially.
For the most part, this policy and practice of exclusion didn't keep Black players from playing the game that they were becoming very good at perfecting. Some Black entrepreneurs started all-Black pro teams and all-Black pro leagues. In 1885, it is believed that the first Black pro baseball team called the Cuban Giants formed. While called Cuban, the team, according to baseball aficionados, actually had Black players who were former waiters and porters in New York.
In 1887, the National Colored Base Ball League was created with a "very unique" window of time that allowed the Colored League to serve as a minor league system and actually play against some white National League teams. It wasn't long before the window closed shut, after racist attitudes magnified, coupled with Black players showing superior baseball skills when playing against White players.
For the most part, Black teams and leagues created during this period of time didn't stay around for long, often because of the financial burdens associated with the business side of the game which included team payrolls, rental of playing venues, uniforms and equipment, travel and lodging, and much more. Yet, Negro teams and leagues continued to rise and fall.
Deciding that he could make Negro League Baseball work effectively, Andrew "Rube" Foster had a vision. In the early part of 1920, he created a Constitution that officially formed the Negro National League (NNL) which consisted of eight teams: The Detroit Stars, Chicago American Giants, Dayton Marcos, Kansas City Monarchs, Indianapolis ABCs, Chicago Giants, Cuban Stars, and the St. Louis Giants. Foster served as the league's president and treasurer.
Foster was a former pitcher who played many years for several Negro teams, such as the Fort Worth Yellow Jackets, Philadelphia Cuban Giants, Leland Giants in Chicago, and the Chicago American Giants. As his career waned, he became more business minded. He owned Chicago's first professional Black baseball team called the Chicago American Giants. His extensive playing experience and relationships with Negro players allowed him to convince many of them to play for certain NNL teams, inclusive of the Detroit Stars.
Including the Stars in his new league was a no-brainer. After all, Detroit was a destination city with a growing Black population fueled by the robust automobile industry, thanks to Henry Ford and his Ford Motor Company. Foster appointed John T. "Tenny" Blount to promote the Detroit Stars. Some close to the team's history said that Blount was the team's business manager and possibly had some level of ownership. Nevertheless, Foster and Blount's business relationship was often rocky.
Rocky or not, The Detroit Stars, which formed in 1919, was the city's first Black professional sports franchise and was more than ready to join the newly formed NNL in 1920. The team's home field was Mack Park, located on Detroit's eastside.
Built in 1914, the stadium was said to hold between 5,500 and 6,000 people, comfortably. However, with creative arrangements, the stadium could pack in a few thousands more. Mack Park would serve as the Stars' home field until a July, 1929 fire destroyed a large section of the stadium. The team moved to Dequindre Park, located at Dequindre and Modern on Detroit's eastside. The team would later play at Hamtramck Stadium, a newly built facility in Hamtramck, Michigan that could accommodate both baseball and football games.
Taking the field for the Detroit Stars' inaugural game were players like Bill Holland, Edgar Wesley, Bruce Petway, Chick Harper, Bill Gatewood, Joe Hewitt, Pete Hill, Jimmie Lyons Andy Cooper, Mule Riggins, Frank Warfield, Pete Hill, and Webster McDonald. The team's record in its first season was 35 wins, 22 loses, which was good for second place behind the Chicago American Giants. In the ensuing years, the team was always competitive; however, they never finished first in the NNL standings.
While there were many players that donned the Detroit Stars' uniform from 1919 to 1933, the team's most famous and greatest star was Norman "Turkey" Stearnes. He joined the Stars in 1923 and was called "Turkey" because he flapped his arms as he ran the bases. From 1923 to 1931, Stearnes was a superstar. He was a fleet-footed and sure-handed centerfielder who was an incredible power hitter.
"He had a funny stance, but could get around on you," the legendary pitcher Leroy "Satchel" Paige once told a reporter. "He could hit the ball over the right field fence, the left field fence and the center field fence. If you didn't pitch him in just the right spot, he would just hit the ball out the park just about every time. He was as good as anybody that ever played baseball."
Stearnes' nine seasons with the Stars is the longest tenure of any player in the franchise's history. When he left the game, he held just about every team hitting record possible.
In 1931, the NNL folded, with the Detroit Stars meeting the same fate. However, a team called the Detroit Wolves, featuring Cool Papa Bell, played in 1932 in the newly formed, short-lived East-West League. In 1933, another edition of the Detroit Stars appeared when the NNL made a comeback; the league and the stars disappeared after a partial season of play. Another comeback of the Detroit Stars was in 1937 as a charter member of the Negro American League (NAL), a membership that lasted one season, although NAL struggled for a few more seasons. As Jackie Robinson was making his quantum leap over the color barrier to Major League Baseball in 1947, and with other African-Americans close behind, a drop-off in the Negro Leagues was eviden
t.
There are scattered accounts that in the late 1950s, the Stars — under another name — tried to shine again. Owner Ted Rasberry, who also owned the Kansas City Monarch, wanted to field a more entertaining team based on the antics of Reece "Goose" Tatum, a famous member of the Harlem Globetrotters, who also played in the Negro Leagues. Rasberry's new team left the field and baseball for good in the early 1960s.
While it has been over five decades since the Detroit Stars played baseball, this storied franchise will live forever in the folklore of Negro Leagues Baseball. Even though many of the major players never got a chance to play Major League Baseball, there is no doubt that they were some of the greatest baseball players that ever lived, pitched and hit on the playing grounds in such Negro League cities as Detroit, Chicago, Pittsburg, St. Louis, Kansas City, Indianapolis, Dayton and an array of others.