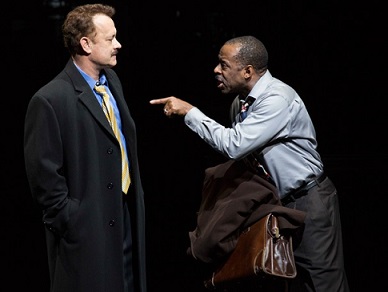 Detroit — On a particularly sun drenched Monday morning in Detroit, the planets aligned and I returned to my high school alma mater to connect with former classmate, acting great and all-around "nice guy" Courtney Vance. The consummate actor traveled to Detroit to address students at Detroit Country Day School regarding his journey to success, his inspiration and his hopes for them. Vance was, however, unaware of the surprise honor they had in store for him, that he would be the recipient of DCDS' first Courtney B.Vance Performing Arts Award.
But what I and everyone else heard in Country Day's elegant state of the art Performing Arts Center was an eloquent and impassioned discourse on the importance of "getting back to basics."
I encountered Vance walking the halls of his high school alma mater, holding his mother's hand, not in the way a child does, but as a man does, gently and confidently leading her along the hallowed halls of what had become professional and personal memory lane. The irony was not lost on anyone who witnessed that poignant moment.
Vance, who has worked with such industry giants as James Earl Jones, Denzel Washington, and Whitney Houston, turned and caught sight of me as we approached our favorite English teacher, Mrs. Hannett's classroom. With a booming and familiar laugh he opened his arms; we embraced and reminisced briefly about the years we spent at one of the country's most prestigious academic institutions.
Vance worked through the exhaustion of eight weekly Broadway performances, then traveled to Detroit from New York where I had spoken with him a few days earlier about his role in the Broadway production of the hit play, Lucky Guy.
Having seen Vance perform in so many big and small screen hits, including Hamburger Hill, The Preacher's Wife, etc., I joked that he owed me $1,350. When he asked why, I admitted that I had become such a fan of what had become television gold, "Law and Order," and his role of Assistant District Attorney Ron Carver, that I downloaded countless hours of the show from Netflix and exceeded my Wi-Fi card limit by 135 megabytes. "We really got you, didn't we Roz," he shot back with a smile, and having gotten that off my chest, we immersed ourselves in the interview.
When you consider your entire body of work, which of your performances comes to mind?
It would have to be Fences and Hamburger Hill, because that was my first (hit movie), along with The Preacher's Wife and the show I'm doing now, Lucky Guy. I was blessed to get two wonderful theatrical productions on Broadway, Fences and Six Degrees of Separation, which I ran in for over a year in both of them but to get a third go-round typically just doesn't happen. Imagine working with George C. Wolfe coupled with getting 14 actors together in such a complex play, and doing it without the late playwright Nora Ephron is nothing short of a tour de force.
How do you decide on what roles you want to go after?
I look for role's that challenge me, andI consider whether it is something that I and my family will be proud of? Will my family be proud to watch the work and will it challenge me. In this case [The Lucky Guy] it was the opportunity to work with Nora Ephron and Tom Hanks and George C. Wolfe; if the three of them are involved, I am in it. George is a taskmaster, and we are all exhausted, but exhilarated. He is relentless because his vision is so big.
If you had not become an actor, what would you have done instead?
Probably work at General Motors in some sort of business development capacity. I worked summers there in the World HQ and … the worldwide head of purchasing for GM, Robert Stone, and his boss took me under their wing. They were about to send me to business school when I found theater. In fact, they offered me a job that summer which I turned down because I was going to participate in an acting workshop. Then I told my parents what I had done. … Years later that same head of purchasing, and his wife, came all the way from Switzerland and saw me on stage in Fences. … Later he and I wept backstage because he had essentially saved me that summer … it was one of the most moving experiences of my life.
What are you proudest of in your career?
My body of work. My kids can watch it and feel good about it. … People just embrace me and my wife [Angela Bassett] for our body and of work, and we haven't compromised who we are. That means that we save our money and we have to wait sometimes. … I haven't been on Broadway in 20 years, and then this came along at the right time when my children are older, they are seven now, and they are old enough that I can be away from them for a time. … when they were younger I couldn't commit to six months of being in New York. I am most proud of the way we have crafted our careers and our lives.
Lucky Guy dramatizes the story of tabloid columnist Mike McAlary's meteoric rise, fall and rise again, ending with his coverage of the Abner Louima case for which he won the Pulitzer Prize, shortly before his untimely death on Christmas Day, 1998.