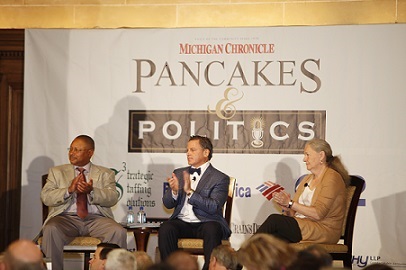 Photo credit: Monica Morgan
Three heavy hitters took the stage at the Detroit Athletic Club on Thursday, April 25, to address an audience of state and local officials and business men and women at the Michigan Chronicle's Pancakes and Politics. The event, which has in the past included mayors, governors and Fortune 500 CEOs focuses on the commitment of state and local leaders to the revitalization of Detroit.
Developer and Quicken Loans chairman, Dan Gilbert, Detroit Economic Growth Corporation president and CEO George Jackson and Midtown Detroit Inc., president Sue Mosey discussed a variety of topics ranging from Detroit's Emergency Manager Kevin Orr to mid and downtown development.
When Pancakes and Politics moderator Carol Cain asked Jackson how the city's financial manager might impact DEGC projects, Jackson responded that he was hopeful about the EM's progress. "We have to make change. We can't keep doing the same things and expect different results. … but our expectation is that he will help us address some very critical issues that have not been addressed. … We have to do something about the defenders of a dysfunctional status quo."
Gilbert added that excitement was building around several key developments, particularly employment and business opportunities in Detroit's inner city. "We have walkable communities downtown now, and that has positively affected 9500 people, and what is even more important to note is that 4500 of those jobs were created in the city, they are not jobs moved from somewhere else. … Innovation and creativity is at an all-time high."
During the open question and answer segment, one Pancake and Politic patron said that Midtown Detroit was becoming a city in and of itself. Mosey, who has been a critical player in the area's development, said there were several key indicators at work. "People are coming in and seeing businesses at work as well as significant activity. We have to leverage that … to benefit neighborhoods as the downtown core gets better."
Gilbert, Jackson and Mosey all affirmed rumors of Detroit's demise were greatly exaggerated. "I never thought Detroit was dead. The city needed to see hope and there is nothing like hope to get people going … You can't get discouraged. … I always tell these entrepreneurs if you care about yourself and you're a capitalist, this is the place to be."
"I think we are on the cusp of something great," concluded Jackson.
The Michigan Chronicle's Pancakes and Politics series will feature the regions 'Big Four,' Detroit mayor Dave Bing, Wayne County executive Robert Ficano, Macomb County executive Mark Hackel and Oakland County executive L. Brooks Patterson. The event will be held on May 16 at the Townsend Hotel in Birmingham, MI.
About Post Author