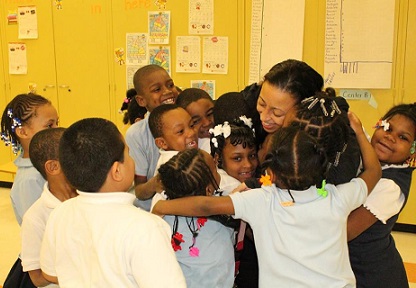 Detroit Public Schools' new 'DPS Open Doors Day' guaranteed to wow families!
On Saturday, April 27, more than 90 DPS schools will open their doors, allowing parents to see schools firsthand; meet principals, staff and parent leaders; take tours; sample healthy nutrition food in the school cafeterias for free; and see in action DPS' plans to create Neighborhood-Centered, Quality Schools throughout the city.
The 'DPS Open Doors Day' will be held from 10:00 a.m. – 2:00 p.m. as part of the Open Enrollment Period, which runs through May 10.
Some activities will include classroom visits, instructional technology/lab demonstrations, presentations by teachers, student performances and business/community partner information. Some schools will also feature choirs, step and cheer teams, puppet shows, mini band concerts, Michigan Tech Science Experiment Stations and more!
Unique 'DPS Open Doors Day' offerings:
· Two free flights over the city by staff from Davis Aerospace High School
· Hard-hat tour of the new Diann Banks-Williamson Educational Center, a $6.67 million addition to replace the old Kettering West Wing facility for Special Education that will open adjacent to the new East English Village Preparatory Academy
· Showcase of the district's 17 new or significantly renovated schools as part of the 2009 bond issue
· Dance and music performances by students from the renowned Detroit School of Arts
· Free shuttle buses available from seven Parent Resource Center hubs; the four-hour time block, as well as the shuttle bus service, will allow families to visit several schools in one day
· Free samples of DPS' healthy lunches, free refreshments and other giveaways, while supplies last
· Mobile Dentist at Ludington Magnet Middle School
· Preschool Showcase at Marcus Garvey Academy and Charles Wright Academy
· Free workshops by The Home Depot at the Osborn Parent Resource Center
· Autistic Team offering information and support opportunities for students with disabilities at Earhart Elementary-Middle School
· And much more!
Individual schools that are open for enrollment include 12 neighborhood schools showcased by Excellent Schools Detroit as among the best in the city, as well as new schools and college preparatory programs with curriculums focusing on science, medicine and performing arts. DPS also offers multilingual education programs, Public School League scholar-athlete programs and Parent Resource Centers.
More than 90 schools open for information, tours from 10 a.m. – 2 p.m.; FREE shuttle service; Every site will offer FREE healthy meals, receptions and giveaways!
For enrollment information, call (313) 240-4377 or visit detroitk12.org/enroll