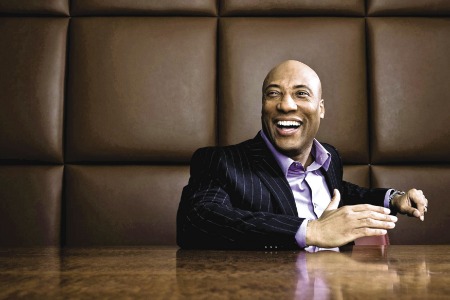 It would be difficult to ima­gine anyone not knowing who Byron Allen is because he has been a consistent presence on television for several decades.
He was practically a kid when he was part of the ensemble cast of "Real People" that aired on NBC from 1979 to 1984. It was essentially a comedy talk show, one that spotlighted people with unusual hobbies and occupations. The program was "on the road," so to speak, but sometimes the guests would come to the studio.
That show was in prime time, but Allen is usually seen on late-night TV. Among his latest programs is "Comics Unleashed With Byron Allen." Comedy is his forte, and he does stand-up, but he is equally as well known as a television producer who works apart from the networks.
That is a major challenge, but it makes it possible for Allen to be the one to call the shots.
"IF YOU look at the history of TV, the independents are the ones who've made the breakthroughs," he said. "They are the ones who have to go the extra mile to do shows that cut through."
Among the popular independently produced shows, past and present, that he cited, which are or were aired via the networks, are "Entertainment Tonight," "Oprah," "Wheel of Fortune," "Judge Judy" and "Star Search."
Allen explained why operating independently is even more of a challenge today, even a daunting one, than it was, say, 20 years ago.
"With the increasing media consolidation, it's become tougher for independents to get shows on the air and keep them on the air," he said. "But we really want the independents to continue to shine. It's not a sprint, it's a marathon. Don't think sprints. Think marathon."
BYRON ALLEN FOLKS was born on April 22, 1961 in Detroit although the family had relocated to Los Angeles by the time Allen had reached his teens. He had a natural inclination for comedy and as a teenager began doing stand-up.
His mother worked as a publicist for NBC, located in Burbank. She would regularly take young Byron to the studios with her which further piqued his interest in show business.
One of his favorite activities was going on the "Tonight Show" set when no one was there and sitting behind Johnny Carson's desk, envisioning himself hosting a show of his own.
Allen got his first break, surprisingly, from comedian Jimmie Walker who had seen Allen's stand-up act. Although he (Allen) was only 14 at the time, Walker asked him to join the comedy writing team he was a part of, as were Jay Leno and David Letterman.
LATER, at age 18, Alllen made his television debut on "The Tonight Show Starring Johnny Carson." That was a huge breakthrough, and Allen has the distinction of having been the youngest stand-up comedian to ever appear on "The Tonight Show."
His clean, non-racial jokes (in the "observational comedy" category), pleasant personality, relaxed style and fresh good looks made him a natural, and an instant hit. Amazingly, the very next day he was offered a job as one of the co-hosts of a new NBC program, "Real People."
But Allen didn't want to just perform. He wanted to produce television shows as well.
"It all started from the dining room table," he quipped.
From there he called television station owners, programming directors, advertisers and others. He wanted to know everything, including how syndication works.
In 1993 he founded his own company, Entertainment Studios, and soon launched "Entertainers With Byron Allen." The weekly, one-hour show featured interviews with a virtual who's who of show business.
Entertainment Studios grew dramatically. Today the company produces, distributes and sells advertising for over 30 series and is the world's largest producer/distributor of first-run syndicated programming.
Among Allen's shows are "Comics Unleashed," "The First Family," "Cars.TV" (Emmy winner), "America's Court With Judge Ross" (Emmy nominated), "Mr. Box Office," "Justice For All With Cristina Perez" and "Who Wants to Date a Comedian?"
Allen, who is married and has two daughters, wouldn't deny it if you referred to him as a workaholic. But it feels good, the results are gratifying and he has no plans of slowing down anytime soon.
About Post Author