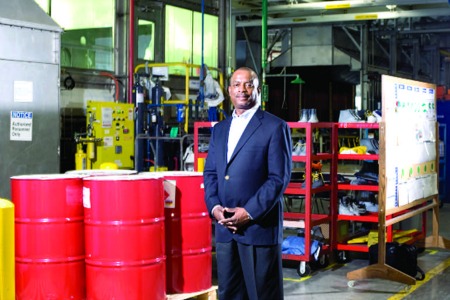 LEON C. RICHARDSON, ChemicoMays president and CEO.
Leon C. Richardson rose from his chair recently at the Charles H. Wright Museum of African American History amid cascading applause. He strolled onstage in his finely tailored blue pinstripe suit where he was greeted by General Motors' Kim Brycz and Tom McMillen. There, the president and CEO of ChemicoMays graciously accepted the automaker's Supplier of the Year award for the fourth consecutive year.
The award is given to a select few of GM's more than 18,500 suppliers worldwide. In fact, ChemicoMays was one of only 83 suppliers acknowledged — or less than one-half of one percent of GM's suppliers.
"We put our focus every day on doing the best job we can for our customers," Richardson said. "That's our core mission. So being recognized by GM for our efforts is an honor and a testament to the dedication and hard work of our employees across North America. We're really humbled by this acknowledgement."
General Motors recognizes the significance of ChemicoMays' presence as a premier automotive supplier.
"ChemicoMays played a critical role in GM's success in 2012 through their outstanding work and commitment to quality," said Grace Lieblein, GM vice president, Global Purchasing and Supply Chain. "We are thrilled to recognize ChemicoMays, who we consider to be a world-class supplier."
To fully appreciate the breadth of ChemicoMays as a leading chemical management company, one must know how the company came to be. Richardson worked as a salesman during the '80s for one of the foremost chemical management companies in the country at the time. He ascended to the top of the 18-person sales force, becoming the company's most successful salesperson. His stellar performance and huge commission checks began garnering the attention of company executives, who surprised him not with words of encouragement and pats on the back, but rather with a condescending message aimed at Richardson's knack for outperforming his colleagues.
The owner of the company, Richardson recalls, told him that his success was overshadowing the other salespeople. "You'll never be the president of this company, so don't even try," the owner said. "Just concentrate on being a good salesman."
Company executives soon decided to reconfigure the commission structure as a result of Richardson's achievements. Any sale over a certain dollar amount, the new company mandate stated, Richardson had to split the commission with the entire sales force. Richardson received 50 percent with the other half divvied between the others. Surprised, angry, yet deeply motivated, he completed a big sale soon thereafter that netted him $50,000 in commission, which he split with the 17 other salespeople. But Richardson took his $25,000, walked away from the company and started his own firm in September of 1989: Chemico Systems, Inc.
The company started as a manufacturer of nonhazardous chemical products for use in the automotive industry, primarily for use in the painting process.
"With the knowledge I had gained, I felt that I was well equipped with everything I needed to start my own company," he says. Six years later, in a strange and mortifying twist of irony, Richardson's former employer began experiencing financial troubles and ultimately filed for bankruptcy. Richardson then decided to purchase his former employer from bankruptcy. "So the company that told me I'd never be more than a salesperson, I ended up buying," he said with a muted sense of pride. And what happened to the former owner of the company? "Oh, he worked for me," Richardson revealed matter-of-factly.
In an effort to expand his company's reach, Richardson merged with Mays Chemical in 2006 to create ChemicoMays LLC, the largest African American-owned chemical management company in North America. "Our coming together helped blend Mays' purchasing, logistics and distribution experience with our research, development and technological know-how," Richardson said. "It was the best of both worlds."
ChemicoMays has operations throughout North America, and Richardson, being the hands-on corporate leader he is, travels more than 100,000 miles annually to keep tabs on the growth and development of the business. He realizes, too, that the viability of his company is rooted in the productivity of his workforce. Richardson rarely utters the words "I" or "me" when it comes to his business; rather, it's "we" and "our."
It is this corporate mindset, in addition to delivering top-notch products and services, which helps position ChemicoMays as a premier chemical management company.