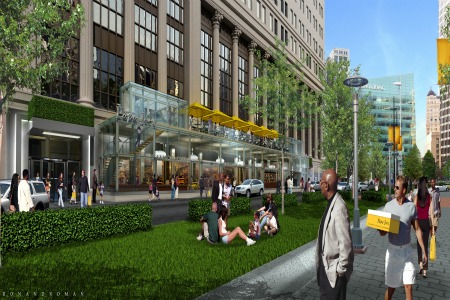 For quite some time, downtown and midtown Detroit has been without a solid grocery store, making residents in the area have to travel to other areas in the city. Now, there is Ye Olde Butcher Shoppe in midtown on Woodward, Whole Foods will open June 5th on Mack and Woodward. Recently, Rock Ventures added Papa Joe's Gourmet Marketing and Catering to the steady stream of retailers choosing to call the area home. The new store will inhabit space inside of the Rock Ventures-owned First National Building, merely a stone's throw away from Campus Martius.
Opened in 1971, Papa Joe's Gourmet Market is a grocery store that offers fresh meats, produce, and seafood in addition to gourmet catered foods and an extensive wine collection. The new store would occupy approximately 15,000 square feet of first floor space adjacent to the Roasting Plant in the building. While meeting the growing demand for a downtown grocer, the new market is also expected to create 80 new jobs.
"Papa Joe's expansion to Detroit will be welcome news to downtown foodies, residents and workers alike who have long lamented the lack of a downtown grocery store," said Dan Mullen, Bedrock's Vice President of Real Estate Development, Rock Ventures' full-service real estate firm specializing in purchasing, leasing, financing, developing and managing of commercial space.
"This will be an expansion of Papa Joe's tried and true concept of offering fresh produce, meat, and seafood as well as gourmet prepared foods and catering that has devoted fans already in metro Detroit," said Mullen.
"We are thrilled with the opportunity to be the first truly downtown grocer in years. My head is full of ideas of how to serve people with great products and services in an inviting space with great indoor and outdoor flow," said Papa Joe's founder, Tony Curtis.
The downtown Papa Joe's will operate slightly different than the other locations. In addition to everything available at Papa Joe's suburban locations, the downtown location will also include delivery and table service for gourmet pizza, pasta, Thai food, sushi as well as a full liquor license. Perhaps the most exciting or innovative feature of the downtown location resides in its use of technology. Patrons will have the option of placing their grocery orders online and picking up their already packaged orders. It will be a haven for foodies and gourmet aficionados. Thanks to its prime location near Campus Martius, patrons will also have the opportunity to sit in Papa Joe's outdoor patio space and enjoy the atmosphere of Campus Martius and listen to any live music that is playing.
"[Papa Joe's] will have a great design and experience you can't get anywhere else. It will feature a restaurant and bar atmosphere and will be a destination for people to visit around the world," said Mullen.
Having a multifaceted retailer such as Papa Joe's moving into the downtown space will add life and vitality to a city that has survived a rock-bottom crash and is rising like a phoenix from the ashes. Although Papa Joe's is not expected to open until later this year or early 2014, one can imagine it being a hotspot next summer.
Follow Amber L. Bogins on Twitter @AmberLaShaii