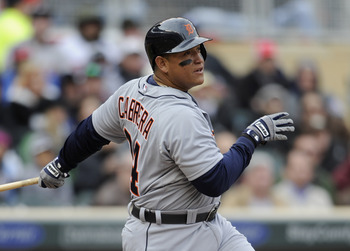 While the MC featured the Tigers' Prince Fielder in today's headlines for Player of the Week, we can't ignore Migeul Cabrera's contributions to Major League Baseball. Check out what Doug Mead had to say about the hometown hero.
It doesn't matter what position Miguel Cabrera plays, he is simply the best offensive producer in baseball.
Aside from the Triple Crown, the MVP Award and winning the home run title, RBI and batting average title in separate seasons, Cabrera's sabermetric statistics are far and away the best in baseball over the past three seasons.
Cabrera is tops with a 173 rBAT, a 191.88 adjusted batting runs rate, a 169.9 batting value, a 171 wRC+ and a 1.025 OPS.
Cabrera, when looking solely at offensive value, is without question the greatest hitter in MLB today.
Doug Mead is a featured columnist with Bleacher Report. His work has been featured on the Seattle Post-Intelligencer, SF Gate, CBS Sports, the Los Angeles Times and the Houston Chronicle.