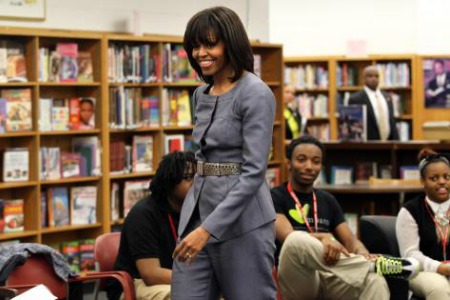 As a native Chicagoan, first lady Michelle Obama says violence in the city is "personal".
On Wed., Apr 10 Obama returned home to give an emotional plea to civic leaders. Standing alongside Mayor Rahm Emanuel, she urged them to help raise $50 million to fund anti-violence youth programs throughout the city.
"I am here today to join the call to all of you, Chicago's most distinguished business and community leaders, to take up this challenge with fervor," Obama told a crowd of about 800 community and business leaders at a hotel in downtown Chicago. "I hope that communities across America will follow Chicago's lead to get our young people off the streets and back on track to successful lives."
Mayor Emanuel officially announced the $50 million fundraising goal to create and maintain programs for at-risk youth in the city. He believes the purpose of his newly-created Public Safety Action Committee is not necessarily about tackling youth violence, but instead the gap of opportunity that exists between inner city youth today.
Click here to find out more.
Follow Britney Spear on Twitter @MissBritneySp