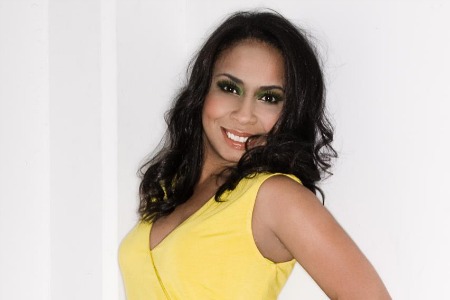 Detroit, MI- (April 2013)- Multitalented Actress/Comedian/Writer Maria Costa debuts her new comedy film special entitled "¡Viva America!" In the film, Costa transforms herself into an array of hilarious characters drawn from her experiences growing up in the ethnically diverse area of Southwest Detroit and being born into a family of Hungarian and Cuban immigrants.
Behind the scenes is acclaimed Director, Rick Najera's, whose credits include ""Nothing Like the Holidays" with Debra Messing and John Leguizamo, FOX's "Mad TV" and "In Living Color." Costa brings a long list of television credits on shows like Ugly Betty and Strong Medicing and is accompied by supporting cast members including, Mike Batayeh who has recently appeared on the acclaimed TV series "Breaking Bad," Lombardo Boyard, who starred as the voice of "Raul," in the film "Happy Feet" and the hit TV series, Shameless on Showtime.It also film features music from some of Detroit's hottest musical talent; Mark Flash, Mike Duprie, Armado Vega, and Ara Topouzian.
The ¡Viva America! premiere is scheduled in concert with 2013 Art X Detroit, Kresge Arts Experience and takes place on Friday, April 12th, 9:00 p.m. at the DIA Film Theatre (5200 Woodward Ave, Detroit, MI 48202). Visit www.artxdetroit.com for details. Following the premier there will be a question and answer session with Costa, and a Salsa music and dance After Party with the cast in the DIA Kresge Court at 10:00 p.m. This event is free and open to the public, RSVP at info@oroent.com.
About Maria Costa
Maria Costa is a native of Detroit, a dynamic actress, comedian and writer whom critics have compared to the likes of Lucille Ball, Lilly Tomlin and Richard Pryor. Maria's hilarious, award-winning, one-woman stand-up performance, "Macho Men and the Women Who Love Them," has sold out performances in 16 cities in six countries as well as the Kodak Theatre in Hollywood, California, and is distributed worldwide on DVD by Image Entertainment. Costa has starred in several primetime television shows like ABC's "Ugly Betty," Lifetime's "Strong Medicine," CBS's "Joan of Arcadia," ABC's "Dangerous Minds" and BRAVO'S "The It Factor LA." Maria was awarded a Kresge Artist Fellowship in 2012 for her creative vision and commitment to excellence in the arts. For more information visit: www.mariacosta.com.