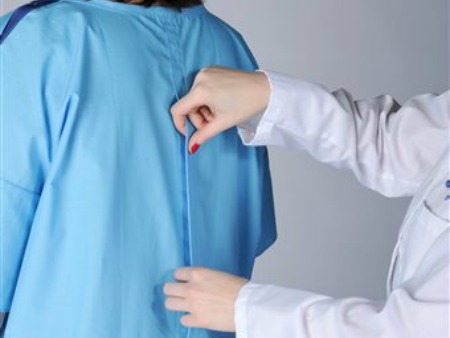 Detroit's Henry Ford Hospital has a new patient gown that aims to offer a little more style, comfort and rear coverage.
The new design, which resembles a wrap-around robe, closes in the back and front. It's also made of a thicker, cotton and polyester blend than a typical gown so that it keeps patients warmer. Three snaps, as opposed to ties, make it slightly more secure that previous cover-ups. It's also more accessible for IVs and other medical lines.
The new gown was developed by the Henry Ford Innovation Institute in collaboration with the College for Creative Studies. After about two years of work on its design, it's currently being tested on several inpatient floors at the hospital. Tailored to fit two patient populations, the new gown can adjust from a size large to an extra-large with the snap of a button. There's no cost change to replace the old gowns, and the new designs meets national hospital cleaning standards.
It's sure to put a smile on patient's faces, and save them a little bit of dignity during their hospital stay.
Follow Britney Spear on Twitter @MissBritneySp