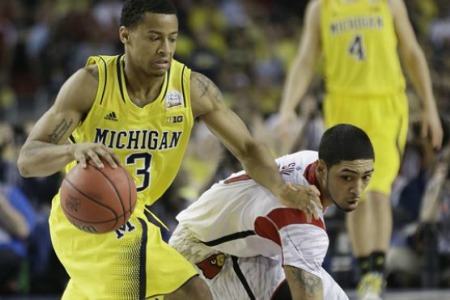 On Monday night, Apr. 8, the Michigan Wolverines fell to Louisville in a hard fought battle for the NCAA championship title.
A game that for the most part remained even throughout, the Maize and Blue ultimately could not stop their opponent in the second half.
Trey Burke got into early foul trouble. With the star guard on the bench, seldom-used Spike Albrecht shined. He scored 17 points in the first half, giving the Wolverines a12-point lead in the game. That lead, however soon evaporated after half time, and the Cardinals went on to win 82-76.
While Albrecht and Burke both played most of the second half, Michigan couldn't prevent Louisville from converting around the basket. Burke- the national player of the year- attempted to rally Michigan, finishing with 24 points. Albrecht remained scoreless after half time.
Ultimately, defense let the Wolverines down. It's is a vulnerability that Michigan struggled with throughout the season. Louisville took advantage, and finished with 15 offensive rebounds. While the Wolverines shot 52 percent from the field and 8 of 18 from 3-point range, they were unable to string together enough stops for a rally after falling behind late in the game.
With it's original Fab Five in the building, Michigan came up short and lost out on the victory. It was a great run, nonetheless. For the first time in 20 years, the team reached the Final Four tournament. Playing in the national title game was icing on the cake to a history-making season.
Fans undoubtedly look forward to next year, and hope the success of this year's team will only multiply in upcoming seasons.
Follow Britney Spear on Twitter @MissBritneySp