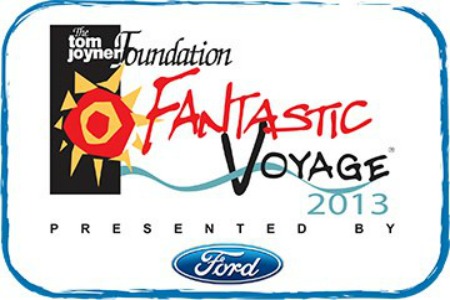 This weekend the 2013 Ford Fusion will cruise the high seas of the Caribbean Islands with a "purpose." The Fusion will sail for eight days and seven nights aboard the 2013 Tom Joyner Fantastic Voyage, as part of Ford's relationship with the Tom Joyner Foundation.
This marks the seventh consecutive year Ford has been the automotive exclusive sponsor and the second year Ford is the official presenting sponsor of the cruise, which supports Historically Black Colleges and Universities. This year, Ford will give the keys to the newly designed Ford Fusion to one lucky listener of the Tom Joyner Morning Show or cruise attendee as part of the 2013 Fantastic Fusion Giveaway.
"We are very excited to once again be a part of an event that supports higher education within the community," said Shawn Thompson, Ford manager, Multicultural Marketing. "Our ongoing involvement in this cruise allows us to continue to 'Go Further' when it comes to not only our products, but also as it relates to our commitment to educational attainment within the community."
The cruise, now in its 14th year, will set sail from Miami on Sunday, April 7, and make stops in San Juan, Puerto Rico and Nassau, Bahamas. Cruisers will have the chance to enjoy a stellar lineup of some of today's biggest R&B acts, theme night celebrations, exclusive concerts and numerous activities on board the ship. This year's performers include Snoop Dogg; Earth, Wind & Fire; and Oscar winner Jamie Foxx with the Fantastic Voyage White Party on the beach. Also confirmed are Ludacris, Maze featuring Frankie Beverly, and The O'Jays.
2013 Fantastic Fusion Giveaway promotion
The 2013 Fantastic Fusion Giveaway kicks off April 8 and runs through April 19. Cruise attendees and all Tom Joyner Morning Show listeners are encouraged to register by visiting www.blackamericaweb.com to submit for a chance to win an all-new 2013 Ford Fusion. In addition to the Fusion giveaway, Ford will also be bringing along for the fourth year Play Date™, an entertainment-based company that offers an alternative to the traditional party by using interactive games like No Hands Dance, Musical Chairs and the "Go Further" Day Party to spark up the fun. The newly redesigned Ford Fusion will be the focal point for all of Ford's activities this year.
"I've said it before and I will continue to say it, 'Ain't no cruise like a Tom Joyner Foundation Fantastic Voyage Cruise,'" said Tom Joyner. "Ford shares in our commitment in delivering unmatched entertainment, fun and purpose, all in support of students attending Historically Black Colleges and Universities."
2013 Ford Fusion
The Ford Fusion has a sleek new design and brings alive the next generation of more expressive vehicles from Ford. In addition to its fresh face, the all-new Fusion offers the broadest selection of fuel-efficient powertrains in the midsize car segment. Fusion offers consumers seven must-have technologies, including a Lane-Keeping System, adaptive cruise control, active park assist and MyFord Touch®.
To learn more about the newly designed 2013 Ford Fusion, log onto www.ford.com/brandnew.