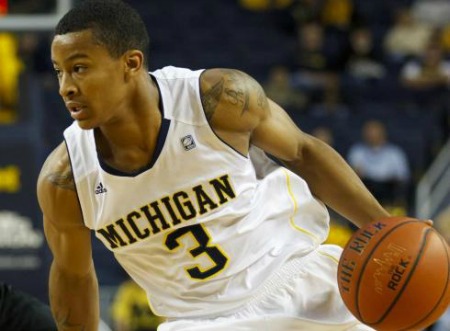 Great news, Michigan Wolverines fans!
The Associated Press has named guard Trey Burke as national college basketball player of the year.
The honor comes just days after Burke's late-game heroics helped guarantee Michigan a spot in this year's Final Four competition. It's their first appearance in two decades. The last time the Wolverines went to the tournament was with it's notorious Fab Five, which consisted of Chris Webber, Jalen Rose, Juwan Howard, Jimmy King and Ray Jackson.
As Michigan's team leader in points (18.8) and assists (6.8) per game, Burke heads into Friday's national semifinal against Syracuse. He's averaged 5.5 points per game over the course of the Wolverines' four tournament wins. During Michigan's memorable win over Kansas in the Sweet 16, Burke had a 23-point performance over the second half and overtime. He was also named the most outstanding player of the South Regional.
Will the star guard and his fellow teammates make Maize and Blue fans prouds this weekend? Stay tuned!
Follow Britney Spear on Twitter @MissBritneySp