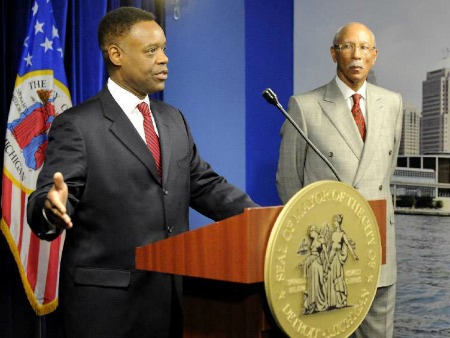 It appears Detroit mayor Dave Bing and EFM Kevyn Orr might already be at odds.
On Wednesday, Apr 3., Orr disavowed letters sent by the mayor's office stating that the city would stop honoring labor union contracts for it's police, fire and paramedics.
It's an apparent miscommunication that speaks to the difficult task former bankruptcy lawyer, Orr has ahead of him. The biggest state takeover of an American city in the past twenty years is sure to have it's unique challenges.
Mayor Bing's letter was written to Michigan's five commissioners of employment relations. It declares that as of Mar. 28, Detroit considers itself no longer bound to its union contracts. The determination is based on the premise that the destitute city is now in "receivership" status. The date mentioned in the letter also coincides with that in which a Michigan law went into effect allowing the EFM to abrogate union contracts.
Orr's spokesman, however claimed he had no previous knowledge the letter would be sent. Mayor Bing's spokesperson has declined to comment. No part of its content can go into action without the approval of the emergency manager.
Declaring a withdrawal from mediations and arbitrations, the letter also orders the dismissal of any pending union issues by Michigan's bureau of employee relations. The bureau handles disputes over which the city and its unions cannot reach agreement.
Last summer, Mayor Bing imposed contracts under which the city's unionized police, fire, and paramedics are currently working. The enactment cut their pay by 10 percent and required that employees pay 20 percent of their medical costs.
Outside analysts claim that in order to restore financial health, Detroit needs concessions from organized labor. The city currently has agreements with some 48 unions, and is running a $100 million annual budget deficit. The state has reported that the city has some $14 billion in long-term debt.
Is the latest a minor hiccup, or the beginning of major disagreement?
Follow Britney Spear on Twitter @MissBritneySp