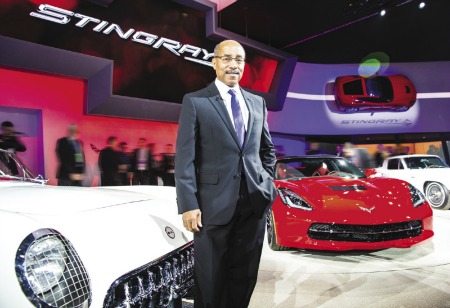 I have received calls from across the country about Detroit Emergency Financial Manager Kevyn Orr, and the battle to unseat him including the federal lawsuit challenging the constitutionality of his appointment. My phone keeps ringing.
And rightfully so because this is the dawning of a new era for Detroit under the Washington, DC lawyer and Jones Day partner Orr, a political seismic shift for the city. What happens to Detroit for the next 18 months will presage things to come for a very long time.
But I have yet to receive one call about the economic boom engineered by the private sector that is restructuring downtown Detroit and is poised to change the image and narrative of a city whose obituary has been written many times in national media.
I have not received any inquiries as to how and why Dan Gilbert, Quicken Loans founder, is so optimistic about Detroit, buying seemingly almost every building downtown, and why companies like Blue Cross Blue Shield of Michigan and others have decided to move thousands of their employees to downtown.
While some are preoccupied with undoing Orr's appointment, there is a lot of economic activity going on in the city. While it's arousing to challenge the validity of an emergency manager in a city that is majority African American, it is sad that there seems to be no focus by our civic leaders about African American businesses and their role in the future of downtown Detroit.
The recent announcement alone of new police cars and much needed ambulance trucks, donated by Detroit's business leaders to improve public safety in the neighborhoods, is significant in light of where Detroit is currently.
What some of our civic leaders ought to be doing is strategizing and finding ways to position African American investors to be part of the new downtown economic dispensation.
But they are not having that conversation and it seems as though they may have missed the boat. Or perhaps it is more titillating to engineer mass protests than to be locked up in a boardroom, seeking a meaningful seat at the table.
Why aren't some of our Black investors buying downtown buildings and renovating them for the economic activities set to begin?
We can devote resources to calling Orr, Mayor Dave Bing and Governor Rick Snyder all kinds of names, and trade insults on the evening news, but what good does that do for the economic viability of the city or for creating an entrepreneurial climate?
What example are most of our civic leaders setting for Black children, especially those who aspire to be entrepreneurs, about this new economic heritage been created by the likes of Gilbert?
Last week I attended an entrepreneurial networking forum at Detroit City Theater hosted by Gilbert and Matt Cullen, CEO of Rock Ventures, the holding company for Gilbert's properties. It was an interesting place to be.
There was energy in the room and excitement as the more than 400 invited entrepreneurs were literary taken on a design excursion of all the projects Gilbert and his partners have in mind for downtown Detroit.
If you were not in that theater, you would think there is nothing going on in Detroit except the appointment of Orr as emergency financial manager and the mass protests planned against him and Bing in the coming weeks and months.
If you were in the room it was evident that a new Detroit was being created, one that is different from the ones that protest signs have been telling the whole world about.
I am not blind to the fact that we are still in a logjam in terms of the economic struggles faced by most of our residents, especially those living in neighborhoods that are dwindling daily. That is why beyond repopulating and redeveloping downtown, the focus on neighborhoods is what will complete a Detroit turnaround.
Yet, our civic leaders in the last couple of weeks have been very visible from the moment Gov. Snyder signaled he would appoint an emergency financial manager to the time that various candidates announced their run for mayor of Detroit.
Almost anyone who calls him or herself a leader came out on record to let the media and the public know they were opposed to the appointment of an emergency manager.
Almost all of those who claim to have a major stake in Detroit politics came out to show who they were supporting for mayor, whether it was former Detroit Medical Center CEO Mike Duggan or Wayne County Sheriff Benny Napoleon.
But not one statement has been made about how downtown Detroit's story is being rewritten and the positive implication that it has on the city's image nationally, and why African American investors should be a part of that story rather than just spectators.
Granted, Greg Jackson, an African American automotive businessman, bought Lafayette Towers and Larry Brinker CEO of the Brinker Group, is working with Gilbert's companies to renovate some of the buildings purchased.
But who else aside from Brinker and Jackson is making moves that would have lasting impact?
I was recently having a drink with a prominent African American leader, and I asked him why he and his colleagues are not putting their resources together to purchase some of the historic buildings downtown.
I received no answer as he took another sip of his drink and I took one from mine. It was easy to see that he wanted the subject changed. So we started talking about something else.
There have been meetings in the past where the conversation was "how we can be a part of what is happening downtown," but no plan followed those meetings. It seems as if some of us revel in speaking from the biggest podiums about what needs to happen in front of the cameras yet nothing happens because we have no plans in place.
We've made our feelings known about Orr, Mayor Bing, Governor Snyder and others perceived to be part of a grand conspiracy to "take Detroit from us."
Those with the loudest trumpets can't just sit back and complain and protest about everything else when the most important aspect — the economic engine — now starting at downtown doesn't even merit recognition on their platforms.
Is it because protesting against the EFM and hurling threats at news conferences will generate more media coverage than sitting with the titans of corporate Detroit discussing economic empowerment?
Beyond the cries for civil rights lies the ardent need to offer a bold economic vision that ensures the participation of Black entrepreneurs in the overall economic viability of the city. Embracing the success of downtown is embracing the success of Detroit as a city.
We shouldn't be unnerved about Gilbert and others who view Detroit as an opportunity city.
They are making significant investments with huge rewards. They did not buy into the hype that Detroit is dead or what the national pundits have said about the city.
Obviously they are looking at Detroit through a different lens, one that offers hope, optimism and a brighter future for a major American city. Meanwhile, the others are looking at Detroit through a pessimistic lens where it is all gloom and doom.
But there is other good news too. For example, Faye Nelson, CEO of the Detroit Riverfront Conservancy, is engaging in a remarkable project on the riverfront and is making an indelible imprint on the future of Detroit.
Nelson is actively ensuring the riverfront remains a jewel not only to the downtown area but for the city as a whole. Families from all over have already made visiting the riverfront one of their most cherished summer activities. Last year I took part in the Reading and Rhythm on the River program, reading to children as young as three.
Marvin Beatty at Greektown Casino is an anchor member of the Gateway Marketplace development on Woodward and
Eight Mile Road that is set to create a 350,000 square foot shopping center including a Meijer, Marshalls, K&G Superstores, Men's Wearhouse and a McDonald's restaurant, among other things.
Beatty has been a conscientious voice at Greektown helping the company redefine its corporate social responsibility, that is beyond just writing checks, but one that translates into meaningful social transformation including employment opportunities.
Gilbert and Cullen, like others, are embarking on a historic transformation of Detroit because they believe in the city, and are certain about its resurgence. What is the response from our civic leaders?