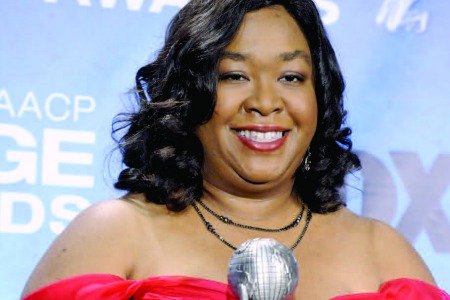 It happens every now then. A television show so hot that fans wait with bated breath for it to air each week. The next day it is a major topic of discussion in offices, in beauty salons, on the Internet, etc. And, of course, the show's ratings are in the stratosphere.
Such is the case with "Scandal," the political thriller series that made its debut on April 5, 2012.
The show was created by Chicago-born Shonda Rhimes.
The screenwriter, director and producer is not a newcomer to the world of hit TV shows. She is also responsible for the creation of "Grey's Anatomy" which has been a ratings bonanza since early 2005. And then there is the spin-off, "Private Practice."
In "Scandal," set in Washington, D.C., Kerry Washington portrays Olivia Pope, who had been a White House communications director for the president of the United States (Fitzgerald Grant, portrayed by Tony Goldwyn).
But later she formed her own crisis management firm called Olivia Pope and Associates.
Pope and her staff are charged with protecting the public images of people in high places, and that includes the White House. In other words, making sure their "secrets" are kept secret, and it all gets complicated, not to mention "juicy." Particularly tantalizing is Pope's romantic relationship with the president.
Rhimes, daughter of a college professor and a university administrator, went to Dartmouth College where she earned a bachelor's degree. It was in college that she began writing in earnest, as well as directing plays and acting in them as well.
Always a gifted storyteller, Rhimes eventually relocated to Los Angeles where she studied screenwriting at the University of Southern California (USC), by now completely sure of what her life's work would be. She was so proficient and imaginative that, in addition to earning a Master of Fine Arts, she won the prestigious Gary Rosenberg Writing Fellowship Award.
But after graduation, for Rhimes it was tough going, because at any given time there is an abundance of hungry scriptwriters and directors in Hollywood. But throwing in the towel was never an option.
The directorial debut of Shonda Rhimes took place in 1998, in the form of a short film starring Jeffrey Wright and Jada Pinkett-Smith titled "Blossoms and Veils."
Rhimes' biggest break up this point was receiving an assignment to write the script for "Introducing Dorothy Dandridge," the HBO movie about the legendary, beautiful 1950s film star ("Carmen Jones," "Island in the Sun," "Porgy and Bess"). In the role of Dandridge was the equally talented, famous and lovely Halle Berry.
"Introducing Dorothy Dandridge" was a ratings success and Berry received several awards.
Fast forward to the mid-2000s at which time Shonda Rhimes was head writer and executive producer of the show of her creation, "Grey's Anatomy," the setting being Seattle Grace Mercy West Hospital, in Seattle, Washington.
It, of course, delves into the intricacies of the staff's personal relationships.
Rhimes quipped, "I can feel it when there's too much medical and not enough personal, and that's the most important balance to keep. We've done episodes where there is a lot of personal and not very much medical. Works just fine. But when the medical sort of overtakes the personal, the show doesn't feel like the show."
Regarding "Grey's Anatomy" and, of course, "Scandal," it is noteworthy and representative of progress being made in certain areas in that ethnicity is not a factor on any level. People just like the shows, period.
Rhimes commented, "It's incredibly encouraging that our viewers haven't gotten hung up on the race thing."
This year, "Scandal" received an NAACP Image Award in the Outstanding Drama Series category, and Kerry Washington earned a Outstanding Actress in a Drama Series award at the same ceremony. Rhimes received an Image Award nomination for Outstanding Writing in a Dramatic Series.
"Scandal" airs Thursdays at 10 p.m. on ABC.