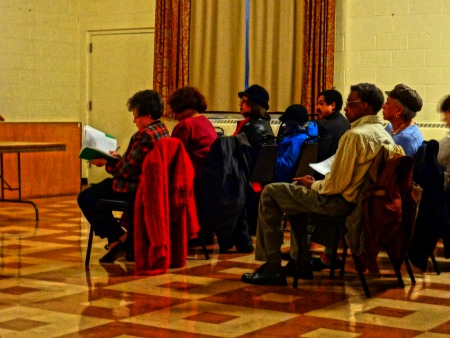 Some might view the problem of crime in Detroit as "hopeless", but many city residents haven't given up so easily.
Detroiters are rallying together for a unified cause to curtail crime in their neighborhoods. They are selflessly giving their time and effort to engage in community policing, an initiative that aims to drive out the criminals and make the streets of Detroit safer.
The Winship Community Association is a group based in Northwest Detroit. The non-profit organization has served the nearby community by helping bring attention to and resolve it's biggest challenges.
At it's most recent meeting, members voiced pressing concerns related to dangerous activities taking place in their neighborhoods. Among influencing factors, they discussed the poor condition of nearby Peterson Park. Residents referenced recent shootings, loitering, parked cars and overall upkeep.
"We have made complaints to the recreation department, and I'm sure they have a file with my photo on it", said Dr. Arthur Divers, President of WCA.
Alicia Minter, Director of Detroit Recreation Development, says the city aims to do everything in it's power to restore beauty and safety to it's landmarks. She officially announced plans to improve Peterson Park. That includes bettering aesthetics as well as regularly monitoring it's condition.
Residents see the city's anticipated move as an opportunity to put an end to some of the troubling activity that occurs in the area.
"We are very glad to see that somebody recognizes the problem and is ready to do something about it", said Dr. Divers.
Residents recognize that finding solutions to Detroit's crime problem will require them to work along with local authorities. It's a tough job that no single entity can alone overcome.
Lieutenant Alysha Hall of Detroit's 8th Precinct officially addressed WCA members and acknowledged the work of the community in helping police Detroit's neighborhoods.
"We recognize that we can't be on every corner of every street… it takes our relationship, and working together to combat crime."
As the precinct's new acting inspector, Lt. Hall addressed a grave yet widely-held notion that the police doesn't "care" about criminal activity. She explains that challenges related to manpower make it difficult to respond to every call.
"Everything is our concern… we truly care. I care, and I'm committed to the community."
Lt. Hall referenced Mayor Dave Bing and the Detroit Police Department's latest initiative "Detroit One", which aims to fight violent crime in the city.
"We're on a hunt for individuals who are causing problems in our community."
Explaining that DPD plans to work diligently to eliminate threats, Lt. Hall also suggested that improvement takes time. She cautioned against residents getting involved in potentially dangerous affairs. Lt. Hall explained that in most cases, it's best to contact the police before attempting to address a situation on one's own.
Meeting attendees also talked about quality of life concerns, and how they affect residents on a day-to-day basis. Though not related to issues like violent crime, such factors impact how Detroiters feel about the neighborhoods they live in.
"We want to reap the benefits of a happy, healthy community".
Residents simply want to better the areas in which they reside, and will step in to do what's needed to witness the realization of that goal. It's a work in progress, yet one that all parties involved must remain committed to in order to make Detroit a better place.
For more information on the Winship Community Association, click here.
Follow Britney Spear on Twitter @MissBritneySp