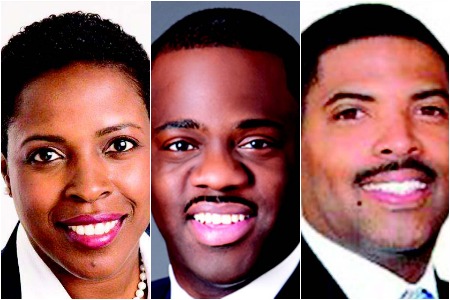 Bishop Edgar L. Vann (center) and Vanguard CDC cut the ribbon on the new Maxwell Homes on Detroit's east side and the new West Oakland Homes in Detroit's Northend neighborhood.
"Even though Sundays are
our preeminent focus, our work in the
community is as important a role as any. People don't want to hear you preach and teach and shout about doing things; they want to see it actualized."
– Bishop Edgar L. Vann, Second Ebenezer
Bishop Charles H. Ellis, III, of Greater Grace Temple in Detroit once called it "going beyond the walls" when discussing ways to touch the lives of those in the community. While speaking the word of God on Sundays is perhaps the greatest and most effective way to influence the masses, doing work outside the church also has a profound effect on the lives of others.
There are Black churches around the country — and indeed around Detroit — that are nestled in areas that have experienced a severe economic downturn. The subsequent trouble that type of environment can engender requires a concerted effort on everyone's part to help alleviate sources of strife. Black churches have historically taken the lead and been beacons of light in our community, illuminating rays of hope to those in need. One such way that this is accomplished is by church leaders taking their influence in the pulpit and skillfully and tactfully transferring them to the boardroom. Countless church leaders in Detroit have focused part of their ministry on helping develop the city economically with business ventures that help uplift the city and its citizens.
Bishop Ellis has spread the wings of possibility by expanding his reach as an esteemed visionary whose church, Greater Grace Temple, serves the needs of the city in immeasurable ways. Part of the church's business portfolio includes the GGT Gardens, which consists of eight duplexes located on Schaefer on Detroit's northwest side. Each of the sixteen units contains two bedrooms, one bathroom, kitchen, living and dining room, basement and many other amenities. There's also the Ellis Manor. It is a professionally managed senior community offering residents quality apartment living in a prime location near church.
Greater Grace established a non-profit venture called the Master's Commission, which was created to provide positive programming geared toward increasing the quality of living for the urban community. Some of its activities include summer youth job training, scholarship golf outing, Thanksgiving turkey giveaway, Christmas bike giveaway and so much more. And in 2004, Greater Grace purchased the historic Rogell Golf Course several blocks east of the church, immediately sprucing it up with all the updates any modern-day golf course requires. At the time, it was the only African American-owned golf course in Michigan.
Bishop Edgar Vann leads Second Ebenezer Church and all of its supplementary business initiatives. In the more than three decades that he has led the church, he has done more than $65 million worth of community and economic development work. Bishop Vann also founded the Vanguard Community Development Corporation in 1994. Through this organization, they provide housing and youth and family development programs, and have a small business incubator that helps people transition out of the manufacturing sector and into the entrepreneurial sector.
At its inception, Vanguard served as an afterschool program that assisted kids with transportation to and from school, as well as gave the kids a place to go once school was out. Oftentimes their parents were working as part of the Work-First Program and were consequently unable to pick up their kids from school within a reasonable timeframe. Therefore, the church provided a steady and safe environment for the kids. Tutors were also present to assist students with homework.
"Showing leadership in the community and making things happen for people every day is my calling, so I'm very diligent at it," Bishop Vann says. "Even though Sundays are our preeminent focus, our work in the community is as important a role as any. People don't want to hear you preach and teach and shout about doing things; they want to see it actualized."
Rev. Jim Holley, pastor of the Historic Little Rock Missionary Baptist Church, views life not just as an experience to be lived but also as a problem to be solved. He cares about Detroit and its citizens with a passion. Rev. Holley is also as sharp a businessman as he is the leader of one of Detroit's crown jewel churches. Born in Philadelphia and raised in West Virginia, Rev. Holley moved to Detroit in 1969. The ministry, he says, was not something he chose. Rather, it chose him.
"Ministry was my calling," he says. "The holy spirit guided me to this position." All of what Rev. Holley does is rooted in the three pillars by which he leads his ministry: salvation, education and economics. He accomplishes the salvation goal every Sunday in the pulpit; he takes on the education goal through the various educational institutions that he has founded; and he tackles the economics goal through his diverse business portfolio.
For ten years, Rev. Holley's company, Country Preacher Foods, Inc., supplied the now-defunct Northwest Airlines with cookies and other snacks; they also provided potato chips to Kroger and Farmer Jack. He has also run a medical center, a strip mall, a convalescent home and a pharmacy, in addition to Cognos Advertising Agency, which at one time was the only full service agency located in the city of Detroit.
Bishop Wayne T. Jackson is the founder and president of The Impact Network, the only African-American founded and operated national Christian television network. He is also the senior pastor of Impact Ministries International in Detroit. A vital portion of Bishop Jackson's ministry is to help those who cannot help themselves. When Hurricane Katrina ravaged New Orleans, Bishop Jackson took trained ministers with supplies for the distressed region. He brought busloads of the hurricane victims back to Detroit where the proper and essential provisions were given to them to enable them to start their lives over. In addition to his role as church leader, Bishop Jackson has tapped into his entrepreneurial savvy, having opened Wayne T's, a shoe and clothing store, Dominques Hair & Beauty Salon, as well as many real estate endeavors.
Bishop P.A. Brooks leads New St. Paul Tabernacle C.O.G.I.C. and is the third longest serving Church of God in Christ bishop in Michigan. During his tenure, his programs and initiatives have benefitted people from every walk of life. His latest contribution is the formation of Faith Community Mortgage LLC, the first Black-owned mortgage company in the Church of God in Christ system. Bishop Brooks also established the nation's first Blue Cross Blue Shield program for local pastors, life insurance for local pastors and a compensation program for widows of local pastors. Both are yet more examples of how he continues to work for the strength and credibility of the Church of God in Christ both regionally and nationally.
This exploding trend of church leaders looking outside the church to affect change in people's lives in something that's certainly not exclusive to Detroit. Others around the country are doing big things as well, perhaps most notably Dallas' Bishop T.D. Jakes. He not only heads a 30,000 member church, he has found time to write more than two dozen books and produce feature films, including the recent "Sparkle." The common theme woven between all of his books and movies is one of inspiration — giving people uplifting stories and affirming directives on how to live their best life.
The ongoing benevolence of these men of God is a true testament to some of t
he tenets of spirituality. They all give selflessly, enthusiastically, willingly, for these are leaders who exhaust seemingly every ounce of influence they have in a perpetual effort to ensure others' lives are better today than yesterday. And for all their efforts, Detroit is a much better place.