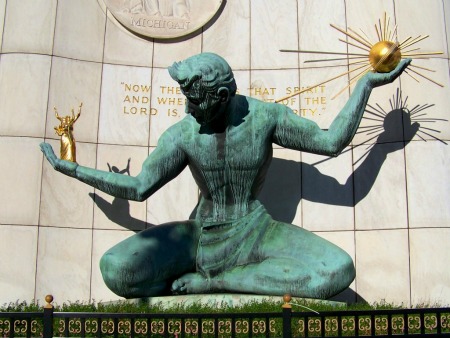 On Monday, Apr. 1, EFM protestors occupied the eleventh floor of Detroit's city hall.
Beginning at lunch time, and lasting for nearly 2 hours, about three dozen protesters gathered just outside the offices of Mayor Dave Bing and Emergency Manager Kevyn Orr.
While they did not get inside the area, opponents vowed they will not stop until their voting rights are restored, and the EFM law is repealed. Part of the group was Rev. Charles Williams, leader of the Historic King Solomon Baptist Church in Detroit and president of Al Sharpton's National Action Network in Michigan. Williams was also part of a protest that took place early last week in the city-county building's lobby.
In an "April fools" gesture, outspoken activist Malik Shabazz passed out Oreo cookies and tea bags to signify what he considers major problems related to the emergency manager law. A strong consensus exists among EFM protesters who feel it's legislation trumps the rights of Michigan's black community.
Just how the federal government will respond to public outcry against an EFM remains unknown. Yet, one thing is for sure. Civic disapproval continues to mount, and protesters show no signs of letting up any time soon.
Follow Britney Spear on Twitter @MissBritneySp
About Post Author