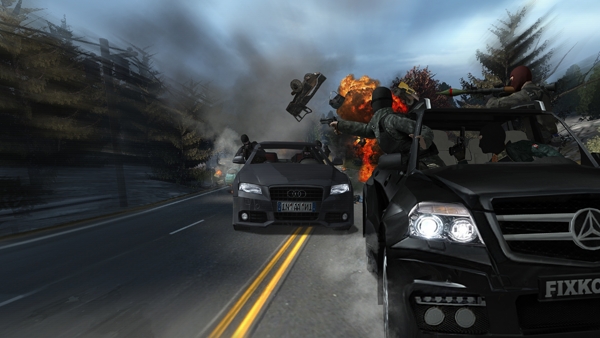 VIRTUAL Feedback
'Tactical Intervention' tests your mettle
First, OGPlanet gave us a successful Open-Beta test. Now, the full version of "Tactical Intervention," a team-based first-person shooter (FPS) is available for gameplay. Created by legendary FPS designer, Minh Le and FIX Korea, "Tactical Intervention" is a Free-to-Play game worth exploring.
With the infamous Highway Mission, players will climb into the driver's seat, shoot hanging out of vehicle passenger windows, all while chasing after the same target. Players can also call in attack dogs to come to their aid, and even make use of tactical rappel ropes to gain the upper hand on the opposing force. They will also have to be conscious of civilians who can be taken as hostages and used as human shields. It is up to you and your team to strategize, execute, and eliminate your target.
Key features include:
The Infamous Highway Mission –

As a Counter-Terrorist or Terrorist, players take the wheel and shoot while driving, or shoot leaning out of passenger windows, guns blazing, all trying to hunt down or protect the VI, for some insane, high-speed action. Other maps include Team Deathmatch, Hostage Grab/Rescue, Bomb Plant/Defuse.

Tactical Attack –

With a focus on team tactics, T.I. features commandable assault dogs, riot-shields, team accuracy-boosts and healing, charges/smoke/flash, and more. First-person rolling and leaning have also been added to the mix.

Dynamic Environment

– Watch for civilians, or use them as human shields. Use what's around you, including propane tanks and fire extinguishers. Players can even rappel of certain rooftops for a tactical assault down the building.
You can play "Tactical Intervention" now by visiting the official website at www.TACTICAL-INTERVENTION.com.
For up to the minute news, events, contests, and giveaways, please visit (and 'Like') the official Tactical Intervention Facebook Page at www.facebook.com/tacticalintervention, and follow the legendary "Gooseman" on Twitter@GoosemanTI.