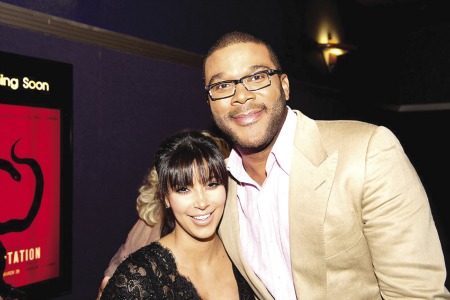 The highly anticipated new Tyler Perry film "Temptation: Confessions of a Marriage Counselor" was premiered in Atlanta last week at a star-studded event that brought paparazzi out of the woodwork.
The movie, which goes wide on March 29, stars Jurnee Smollet-Bell ("The Great Debaters"), Lance Gross ("House of Payne"), Robbie Jones ("90210"), Kim Kardashian, Vanessa Williams and Brandy Norwood.
Writer-director-actor Tyler Perry spoke of what he hopes is his "most thought-provoking" movie yet, and gave high marks to his young cast. He also singled out the expectant Kardashion who attended the opening with the baby's father, Kanye West. "Kim was very professional from day one," said Perry.
Perry also noted that this premiere was special because it took place in his studio's home base, and the ATL seemed a little shocked by all the "paparazzi snapping pictures through the trees." Perry joked that while such behavior is normal in New York or Los Angeles, in Atlanta a person could get hurt.
But in a more serious vein, Perry said the film takes its tone from the subject matter: "It's about relationships and bad choices, and about how one moment can ruin your life."
Smollet-Bell plays Judith, an ambitious, married woman who is tempted into adultery by a sexy billionaire named Harley (Jones). Harley is ruthless in his pursuit of Judith, capitalizing on her vulnerabilities and the inattentiveness of her husband Brice (Gross). Harley wines and dines her, flies her around on his private jet, takes care of her sprained ankle, offers her much-needed passion. But things get violent as her husband finally starts to notice that things are different and Harley's chivalrous facade starts to crumble.
The haunting words, presumably spoken by Judith's mother, "That man is going to hurt you bad…he's going to take you straight to hell," foreshadow a tragic, Shakespearean end.
About Post Author