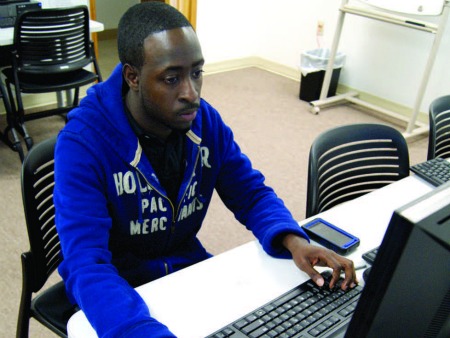 Individuals age 18-24 who live in Detroit, Highland Park or Hamtramck; and who are chronically unemployed or had been formerly incarcerated, can enroll in a free program to help them get a job and learn a skill.
The program is called Earn and Learn and is being offered through the Dearborn-based non-profit organization, ACCESS. Training sessions begin monthly. The next class starts Monday, April 1.
According to Hassan Bazzi, the ACCESS Earn and Learn program coordinator, the program started at the end of summer 2011 and the first work readiness class began in September 2011.
Bazzi said the program is a partnership between private foundations and the state. ACCESS is the service provider.
"The private foundations don't deliver these types of programs; they basically put up the money," Bazzi said.
He also said the target population are people disconnected from employment and training.
"So they could be folks who never completed high school, or completed high school and never had an education beyond that," Bazzi said. "And also folks that are disconnected from employment."
People disconnected from employment could either be those who'd never had any work experience or those who'd been unemployed for some time. According to Bazzi, someone would have to be unemployed for six months or more to be considered chronically unemployed.
Bazzi said there's probably an even split between participants who are chronically unemployed and those who'd formerly been incarcerated.
He also said not everyone who comes into the program qualifies.
As an example, he said someone who's had two semesters of college or has held stable employment wouldn't qualify because he or she isn't disconnected from employment or training.
Bazzi said ACCESS didn't make the decision to limit participants to 18-24 year-olds in Detroit, Hamtramck or Highland Park. Rather, that was part of the design of the program. He also said he's familiar with Earn and Learn programs out of both Flint and Saginaw.
The first stage of the program is work readiness training, which takes place in Hamtramck for four weeks, Monday- Friday from 8:30 a.m. to 3:30 p.m. Bazzi said participants learn employability skills, such as how to put together a resume, and how to conduct themselves at job interviews. They also learn what's expected of them in the workplace.
"We focus on attitude, attendance and appearance," he said. "So one of the main focuses during those four weeks is to get individuals back into a structured environment and reporting at a specific time every morning."
He added that they're very strict on attendance, saying participants are limited in the amount of times they can be absent or tardy in the four weeks.
Bazzi added that during those four weeks, the participants also obtain three industry-recognized certifications: an OLHSA 10 hour certification, a CPR first aid certification; and a customer service certification.
He added that participants are being prepared for entry-level positions across various sectors.
"We focus on opportunities that are in demand," he said. "There are jobs in the transportation industry; there are retail jobs; we're working with various recycling centers, so there are green jobs. There are manufacturing positions, general labor. So it really runs the gamut. It's all across various sectors. But primarily they are entry-level positions."
He said the idea is to get your foot in the door and build your way up from there."
Tony Smith recruits clients for the program. He said he approaches doing so from a couple of different levels. The first is the grassroots level.
"I identify places that might be high traffic places that come into contact with people," Smith said. "So those are places like gas stations, libraries, barber shops, supermarkets. And I post fliers."
Another level involves developing a "pipeline" by going to different organizations and institutions which serve populations that would benefit from the Earn and Learn program. Smith said that involves him going to places like the Department of Human Services, various shelters, or other such institutions that serve young people who would benefit from the program.
According to Bazzi, two classes run concurrently. Each class has 30 participants. Once participants finish that first four-week work readiness class, they'll receive their certifications and earn a $250 stipend. Then they enter the next phase of the program, which is employment and training.
Participants must be at a sixth grade level or higher in reading and math to get into the program.
"Once they finish the four weeks, if they have tested at sixth grade to eight point five, the they're required to go into another component of training which helps raise their grade levels," Bazzi said.
This other component would either be a program called Skills at work, or Fast Track, which is offered at Focus: HOPE.
"A lot of employers conduct employment tests and the base level is eighth grade," Bazzi said. "So they're requiring individuals to test at least at eighth grade."
He said by sending them to these program, they're trying to get them to raise their grade levels, so they can pass the employment tests.
Bazzi said Skills at Work is offered at some job sites, which means participants don't have to leave work to go to training.
He said the short-term goal is for the program to get renewed. Right now it's a pilot program that ends in December.
Bazzi also said one objective of the Earn and Learn program is to get participants who don't have a high school diploma or GED into GED prep classes, so they can earn their diploma or GED.
Another objective is to get them to go into vocational training, so they can earn a certificate that's recognized by an industry, and subsequently make a higher-paying wage.
Bazzi said they want everyone who comes into the Earn and Learn program to be in a better position six months or a year after starting the program.
Those interested in the program can call Tony Smith at 313-285-9033 or e-mail tsmith@accesscommunity.org.
About Post Author