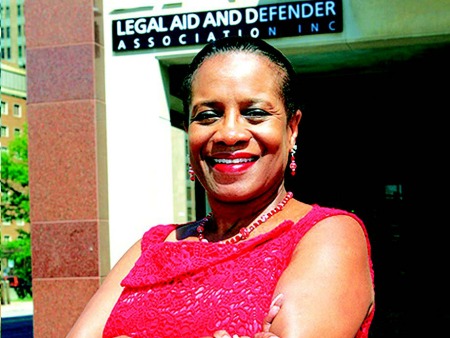 (Photo: Deierdre L. Weir, president and chief executive office, Legal Aid Defender Association.)
For close to three decades, Deierdre L. Weir, president and chief executive officer of Legal Aid and Defender Association (LAD), Inc., has successfully headed Michigan's oldest and largest non-profit public interest law firm. Her success is based on the premise that all people – regardless of their socioeconomic status – should have access to legal advice, counsel and representation in civil and criminal matters on both state and federal levels.
To effectively operate LAD, Weir oversees an annual budget in the neighborhood of $18.5 million that allows the organization to render legal services to about 12,000 cases annually in Wayne, Oakland, Macomb Counties and the Eastern District of Michigan. In addition, she renders great leadership to approximately 140 employees, the majority of whom are attorneys and other legal personnel.
Interestingly, Weir is not an attorney, yet she is a national trendsetting executive in the field of law. Weir explains that many similar law firms across the country are beginning to look at non-lawyers as chief executive officers to oversee respective firms. "One reason is because there needs to be a skill-set that lawyers don't typically bring in terms of efficiently and effectively managing a law firm as a business," says Weir. "So more than 25 years ago, my board decided that it wanted me to run the business aspect of LAD."
While Weir's job is extremely demanding, she wouldn't have it any other way. "I love the work that I do and the people I do it for … as well as the people I work with," says Weir. "I always wanted to work in a non-profit or educational environment where I knew I could make a real difference."
Prior to serving as LAD's top officer, Weir was a special education teacher in the state of California, as well as owned a private practice in speech-language pathology. To prepare for what has been a fulfilling career, she earned a bachelor's degree in speech-language pathology from the University of Michigan, and holds two master's degrees: speech and language pathology (the University of California Santa Barbara) and human resources administration (Central Michigan University.)
Weir has a great love for education and teaching, but saw a greater need to help people who could not afford legal representation. Ultimately, LAD won out over teaching. "When you think about how important the legal system is and how important it is for people who can't afford legal assistance to have access to justice, it poses a great challenge," says Weir, the mother of one adult son. "So my experience at Legal Aid and Defender Association has been a constant reminder that lives can be hanged for the better or worst based on what happens when a person is in the legal system."
While Weir is constantly busy with executive responsibilities pertaining to LAD, she makes time to give back to the community and her church. She is most committed to Black United Fund (BUF), where she serves as a board member. In addition, she is a trustee and serves on numerous committees at Plymouth United Church of Christ. One of her greatest passions is mentoring and empowering women. In 2011 Weir authored the riveting fictional novel, "Women are Like Teabags." She is working on a follow-up to the novel due out in the summer of 2013.