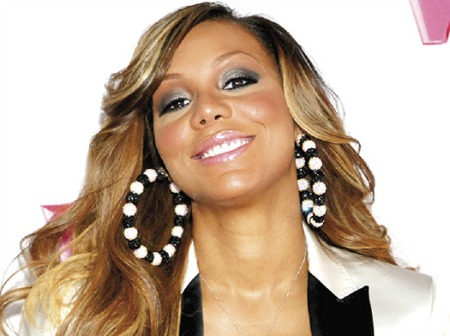 If there is a category in the Guinness Book of World Records for longest dreadlocks, the acknowledgement would likely go to Damian Marley, son of the late, legendary — and still king of reggae — Bob Marley. His hair comes within a few inches of touching the ground!
It is easy to understand why Marley would quip, "We grow our hair because of our faith, but it's getting heavy!"
Marley has won three Grammy Awards and one of his albums, "Welcome to Jamrock," was certified Gold when it reached the 500,000 sales mark. His mother, who is White, is a musician and in 1976 was Miss World.
Of Bob Marley's 11 children, three were with his wife, Rita (including Ziggy Marley), two adopted from Rita's previous relationships, plus six others with various women.
Among Bob Marley's best known songs is "Lively Up Yourself." Evidently he did a lot of "lively-ing up."
TAMAR BRAXTON, one of the four sisters of Toni Braxton, has been signed by Epic Records and plans to have something out soon. Because they never had a smash, most people are unaware that the Braxtons recorded two albums as a group, "Good Life" and "So Many Ways." Toni was only on the first one.
It's interesting that Toni is so much shorter than Tamar, Traci, Trina and Towanda.
Here is an interesting quote from Samuel L. Jackson who, by the way, has been in nearly 150 movies: "We've come a long way in our thinking but also in our moral decay. I can't imagine Dr. Martin Luther King watching 'Real Housewives' or 'Jersey Shore.'"
Soul crooner Will Downing's just-released CD, "Silver," is not just another album. It represents the acknowledgement of this being his 25th year in the business.
FANTASIA has made it clear that reading is not one of the things she does best, but for the sake of career sustainment and self-preservation there are times when what one "likes" to do is of little importance.
"I hate to read," said Fantasia bluntly. "But one thing I do read are my contracts because I will not allow anybody to mess me up."
In a recent column I wrote about a hair designer from Detroit, from "Hair Wars," who calls herself "Katrina the Glam Tech," winning the big Bronner Bros. hair show competition in Atlanta in the Fantasy category. Well, the person in the picture was actually one of Katrina's models. So this week we are printing another picture.
On June 13, Berry Gordy will receive the Pioneer Award at the Songwriters Hall of Fame ceremony in New York. Gordy wrote songs such as "Lonely Teardrops" (Jackie Wilson), "Do You Love Me?" (the Contours), "You Got What It Takes" (Marv Johnson), "Try It Baby" (Marvin Gaye) and was part of the team that wrote most of the early Jackson 5 hits.
Gordy joked that he thought he was pretty good until Stevie Wonder and Lionel Richie emerged as songwriters. "Then," said Gordy, "I went into free fall."
BETCHA DIDN'T KNOW…that in the summer of 1964 Motown released an album titled "Stevie at the Beach," featuring mostly "beach themed" songs.
MEMORIES: "Caught Up in the Rapture" (Anita Baker), "Knock on Wood" (Eddie Floyd), "Get on the Dance Floor" (Rob Base and D.J. E-Z Rock), "Haven't You Heard?" (Patrice Rushen), "Cool Jerk" (the Capitols), "Stop Your Weeping (the Dramatics), "One Monkey Don't Stop No Show" (the Honey Cone), "Leaving Me" (the Independents), "Another One Bites the Dust" (Queen), "To Be Young, Gifted and Black" (Nina Simone), "Spirit of the Boogie" (Kool & the Gang).
BLESSINGS to Keith Owens, Pam Owens, Joan Rogers, Clyde Brooks, Michael Winans, Regina Winans, Theresa Hill, Anthony Neely, Marcus Amick, Terry Cabell,
Melody Moore and Eric Merchant.
WORDS OF THE WEEK, from Patti LaBelle: "Life doesn't come with a rewind button. If you want to live genuinely, you have to free yourself from the opinions, beliefs, attitudes and judgements of others."
Let the music play!
(Steve Holsey may be reached at Svh517@aol.com and PO Box 02843, Detroit, MI 48202.)
About Post Author