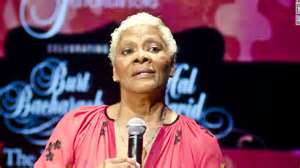 Los Angeles (CNN) — Dionne Warwick, one of the most recognizable pop voices of 1960s, filed for bankruptcy last week citing more than $10 million in tax debt dating back to 1991.
Warwick, 72, made hits out of many Burt Bacharach and Hal David songs and won five Grammys in a 50-year career is down. But the singer is down her last $1,000 in cash and only owns furniture and clothing worth $1,500, according to the Chapter 7 filing in New Jersey.
The bankruptcy documents filed in New Jersey last Thursday outline a sad financial situation for Warwick, the aunt of Whitney Houston.
Along with $7 million in federal IRS debt, Warwick said she owes more than $3 million to the state of California in franchise taxes. Another $500,000 is owed to a lawyer and a business manager, the filing said.
Warwick's total assets are worth just $25,500, mostly because of two fur coats and two sets of diamond earrings valued at $13,000, the documents showed. She also claimed clothing worth $5,000, art worth $5,000 and furniture valued at $15,500.
Warwick recently took a credit card debt management class, it said, perhaps relating to a $20,000 Visa debt.
Her annual income was listed at just $20,950, although she is eligible for a pension from the SAG/AFTRA union, the filing said. Warwick listed her employment with Star Girl Productions, an entertainment management company.
She has been touring in recent months, singing her hits for fans in Europe and South America, according to her website.
Warwick's success began in in 1962 with "Don't Make Me Over," followed by 18 consecutive Top 100 singles.
Other Bacharach/David classics include "Walk on By," "Anyone Who Had a Heart," "Message to Michael," "Promises Promises," "A House is Not a Home," "Alfie," "Say a Little Prayer," "This Girl's in Love With You," "I'll Never Fall in Love Again," "Reach Out For Me," and the theme from "Valley of the Dolls."