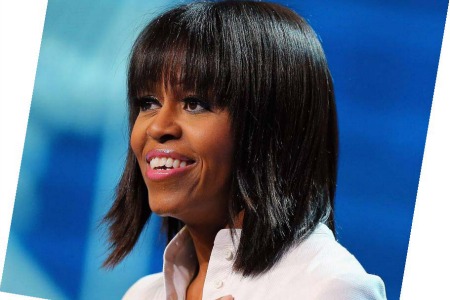 Forget clothes. The trend that is popping up everywhere is bangs. After First Lady Michelle Obama stepped out with her blunt cut face-framing fringe, many celebrities seemed to take their style cues from our fashionable FLOTUS. From retro cuts to side bangs to full-on, blunt fringes, it is clear bangs are having a moment. The best part about this trend is bangs are an easy and inexpensive way to update your look. But which style will best suit you? Worry not, we've hand-picked five of the best celebrity fringe hairstyles to inspire your next salon trip.
Blunt Bangs
The most popular and flattering style for any face shape is wearing a fuller, long bang with any length hair. This style brings out the eyes because the length of the bang ends exactly where your eye starts. It is a youthful look because the thickness of the bang hides any lines on the forehead. This style is best for straight hair as the bangs need to fall flat on the forehead. Michigan humidity can curl any type of hair so the use of a flat iron to keep hair straightened is suggested.
Frame Work
Kerry Washington's bangs are cut in a horseshoe shape around the face, with the longest pieces falling below her cheek bones. This keeps her face open. The contrast of soft layered curls and pin straight face framing bangs also makes Kerry Washington's shoulder-length style feel feminine and relaxed.
Retro Revival
In 1955 Bettie Page's iconic raven fringe, worn curled under and slightly shorter on the sides, was more naughty than nice. Here, Nicole Scherzinger continues to rock the vampy pinup-inspired hairstyle. Scherzinger paired the short bangs with victory rolls and long tendrils gracing her shoulders. With the bangs cut shorter on the sides, the fringe appears to arc towards her hairline making her cat like eyes more noticeable yet mysterious.
Wispy Waves
Rihanna is a hair chameleon and never sticks with one cut or color for long. But now she's rocking curly, blonde locks with wispy bangs, and it is a nice departure from her edgier cuts. If you have a diamond-shaped face or an angular jaw, wispy fringe can balance your look. This style is also has effortless summer appeal. To achieve the wind blown beachy look be sure to cut into the bangs vertically to eliminate bulk on the ends.
Hide and Peek
In the early 1940s, screen siren Veronica Lake popularized a longer, textured "peekaboo bang." Side-parted over one eye and worn with a wave, the sexy style has recently made its way onto Kelly Rowland's glossy mane. This look really works for Kelly because it helps to draw attention away from her more prominent chin and instead draws attention to her framed peepers.
About Post Author