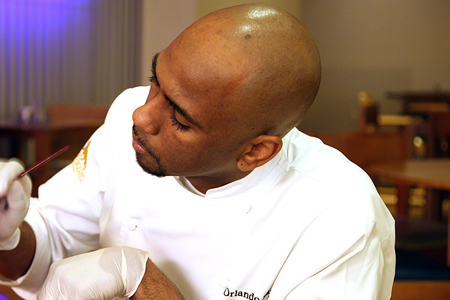 MGM Grand Detroit Executive Pastry Chef Orlando Santos is using his creative dessert talent to create signature gourmet cupcakes and many other specialty desserts for Palette Dining Studio.
Before joining MGM Grand Detroit in 2012, Chef Santos starred on Bravo's hit show "Top Chef Just Desserts." Trained in the classical and contemporary art of pastries and artisanal chocolate, he is originally from the U.S. Virgin Islands and incorporates that style as well as French and American flavors into his desserts.
When asked what his favorite cupcake is, he answers that it is with his Chocolate Strawberry Champagne Sensation paired with his Orange Pineapple Sauce. He shares the recipe below.
Chef Santos went on to say, "I love creating unique flavor combinations to make people happy. Using my passion to make decadent desserts is fun and rewarding. It helps that they are a delicious treat and make thoughtful gifts."
The cupcakes are sold inside the property's buffet and are available in the classic chocolate and vanilla flavors, as well as options including strawberry and mocha. They can be purchased to enjoy while dining in and are among the few items that can be taken out. An order of one gourmet cupcake costs $5, and an order of four costs $18.
Chocolate Truffle Cupcake
12oz Sugar
4oz Butter
3oz Salad Oil
9 oz Cake Flour
2oz Cocoa Powder
1tsp Baking Soda
2 tsp Baking Powder
8oz Whole Milk
6 Whole Eggs
1tsp Vanilla Extract
Combine the butter sugar and salad oil in a mixing bowl and whip until light and fluffy. Sift together all dry ingredients. Add the whole eggs and vanilla extract one at a time till combined. Add dry ingredients and whole milk alternating in mixing bowl to achieve a smooth cake batter. Place in cupcake tins and bake at 350 F for 45 minutes.
Buttercream Icing
2 lbs Butter
8oz powder sugar
5oz granulated sugar
2oz egg white
1oz Strawberry Champagne Compound mix
Combine butter and powder sugar and whip until light and fluffy. Combine pasteurized egg whites and granulated sugar together and make a meringue. Add the meringue to the whipped butter and powder sugar mixture. Flavor the mixture with the strawberry champagne compound. Spread on cooled cupcakes.