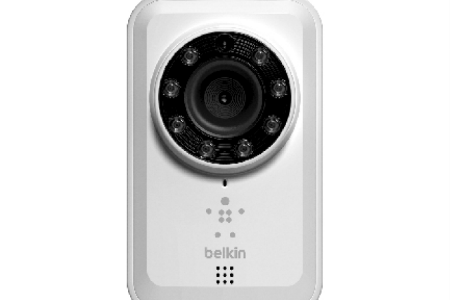 Your smartphone just got smarter.
As we depend more on technology for the simplest tasks from recipes to finding directions, our smartphones are an integral part of our lives, and shouldn't we be able to see what's going on at home even if we're hundreds of miles away?
That's the concept of Belkin NetCam with Night Vision, which is now available from Verizon Wireless.
The Belkin NetCam Wi-Fi Camera with Night Vision makes it easy to check in on your kids after school, or keep an eye on your room while you're away, and the camera connects to your Wi-Fi router without the need of a computer.
Think of it as a stand-in for your home monitoring system. Although the box doesn't come with multiple cameras, you can at least set it up in a "hot spot" of your choosing.
Simply download the free NetCam app on your iOS or Android device to keep an eye on your home anytime, anywhere. The camera's wide-angle video captures large spaces while its clear digital audio keeps you from missing conversations or noises. With night vision for recording in low light, NetCam is also ideal for baby monitoring.
With access to your home from wherever you are, this camera is not only a cool gadget to add to your arsenal of gadgets, it has plenty of practical applications worth diving into.
It also lets you save video directly to your mobile device, so you can share your favorite memories. NetCam requires a Wi-Fi router with an Internet connection and an Apple device with iOS 4.2+ or an Android device with version 2.2+.
While the Belkin NetCam certainly wouldn't replace your home security system, it does function as a plausible add-on worth considering if you're looking for something unique, or even a conversation piece over dinner, the NetCam is obviously ground zero for a bigger technology round the corner.