The weekend is here! Need something to do? Here's a list of things to get into this weekend in and around Detroit.
Friday, 3/22/13
Alvin Ailey American Dance Company (Friday, Saturday and Sunday)
Detroit Opera House
Times vary
Visit http://www.michiganopera.org/2012-2013-season/dance/alvin-ailey-american-dance-theater/ for ticketing information.
Alvin Ailey American Dance Theater returns to the Detroit Opera House in 2013, performing the company's classics along with new works by contemporary choreographers. Always a favorite of Detroit audiences, AAADT will bring its extraordinary beauty and grace, electrifying energy and soulful spirit to the city. The 2012-13 season follows the acclaimed inaugural season of new artistic director Robert Battle, who is only the third person to head the company since its founding. AAADT has performed works in cities around the globe, earning a reputation as one of the most successful international ambassadors of American culture.
Saturday, 3/23/13
2013 NCAA Division I Men's Basketball Championship
The Palace of Auburn Hills
Date & Time: Saturday, March 23 at 12:15 PM
Price: $225 and $150 reserved. Ticket includes all 3 Sessions (6 Games)
More Info: Ticket includes all Three Sessions (Six Games) for 2013 NCAA Second and Third Rounds of the Division I Men's Basketball Championship on Thursday, March 21 and Saturday, March 23, 2013. Host Institution is Oakland University.
Go online to http://www.palacenet.com for ticketing information
2013 CCHA Championship (Saturday and Sunday)
Roz on the Rocks Party at UDetroit Cafe, 1427 Randolph St. in Harmonie Park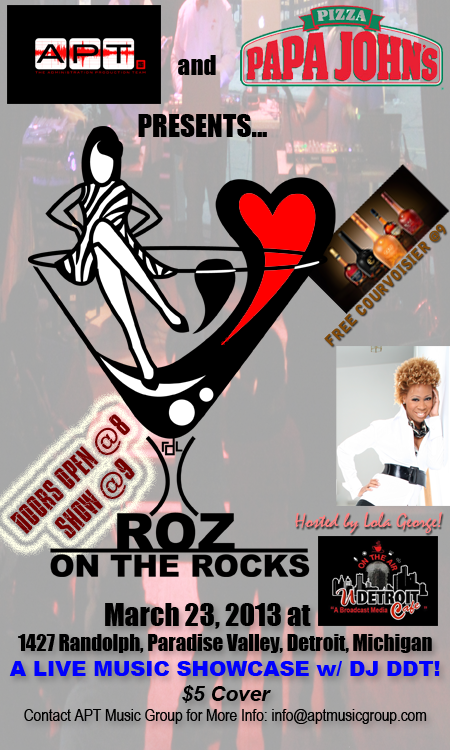 College Hockey in the D presented by Arby's
Joe Louis Arena
Times Vary
Tickets to the 2013 CCHA Championship are priced between $10 and $35 apiece and can be purchased at the JLA Box Office (313-396-7575), all Ticketmaster (800-745-3000) outlets and online at OlympiaEntertainment.com.
Russian National Ballet: Romeo and Juliet
Music Hall
8:00 p.m.
Prices: $27, $37 and $47
Visit http://www.musichall.org/events/Russian-National-Ballet-ROMEO-AND-JULIET to purchase tickets
NBC News Education Nation Detroit Teacher Town Hall
Charles H. Wright Museum-General Motors Hall
7:00 p.m.-8:30 p.m.
NBC News Chief Education Correspondent Rehema Ellis, with WDIV Local 4 News Anchors Carmen Harlan and Steve Garagiola, convenes teachers from across the state to discuss the important issues facing their districts.
Visit http://www.educationnation.com/index.cfm?objectid=7EAE0F30-8ABB-11E2-93ED000C296BA163 for more information
7th Annual Motor City Blues Festival
7 p.m.
Masonic Temple
Featuring: TK Soul, Mel Waiters, Floyd Taylor, Shirley Brown, Denise LaSalle and others
Visit http://www.themasonic.com/events.php for ticketing information
Sunday 3/24/13
Jewel Greatest Hits Tour
Sound Board at MotorCity Casino Hotel
7:30 p.m.
TICKET INFORMATION
Visit www.SoundBoardDetroit.com for more information about tickets, hotel packages, and Sound Board. Get in touch with us at 866-STAY-MCC or info@soundboarddetroit.com.
The Cross and the Light
The Music Hall
7:30 p.m.
Tickets: $35,$45,$55,$100
Visit http://www.musichall.org/events/The-Cross-and-the-Light to purchase tickets
The Cross and the Light is an epic theatrical experience and deeply moving musical journey through Christ's Passion, Death, and Resurrection. This powerful performance will bring you to the foot of the Cross to experience Jesus's final hours in a way that becomes a personal and profound encounter with our Savior. After Jesus's death, the Risen Lord appears to His Apostles and prepares them for Pentecost. This joyous experience will leave you uplifted! Don't miss it.
The Before They Were Stars Talents Search & Game Show
Masonic Temple
6 p.m.
The Before They Were Stars Talents Search & Game Show is Detroit's Own Apollo Style Talent Showcase and Price Is Right Game Show. This new way to entertain will provide audience members and contestants with prizes and a whole lot of family fun! The show will be filmed and aired on WADL TV38 Detroit. The BTW Stars Show is sponsored by My Alternative Ed. and is a Paving the Way Production!
For more information on how to be a contestant on the show or for tickets call 313-778-6917
Visit http://www.themasonic.com/events.php for more information