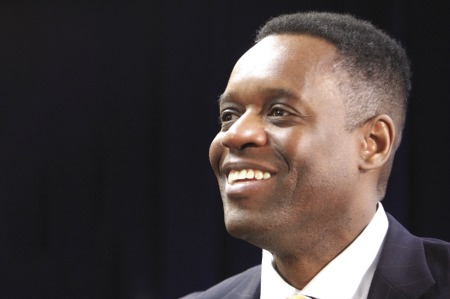 Last week at Cadillac Place, Michigan Governor Rick Snyder named for the first time an emergency financial manager for Detroit, a move that was strongly opposed by those who saw it as a blatant disregard for the voting rights of Detroiters who through the ballot box for decades have been electing their officials through the power of the vote.
That the voting right is so sacrosanct they say that nothing should abridge that right, no matter what the consequences are.
On the other hand, it was welcome news for those who saw the arrival of the new sheriff in town, Kevyn Orr, as a needed exercise to get the city's finances in order, save a major American city from collapse and the ruins of inept city leadership amidst the naked dwindling of city services that often have forced residents to move out.
Inadequate public safety, including the frequent no-show EMS services and a struggling police department that is battling morale for changing so many police chiefs sunk in scandals in four years like musical chairs, coupled with the unacceptable deaths of babies and children, the victims of guns in Detroit, according to supporters of an emergency financial manager for Detroit, should serve as an impetus for Orr's arrival.
What can I say?
The future is uncertain despite what both the pessimists and the optimists say about Orr's arrival. This is high stakes for Detroit, a clear indication of how the city is transitioning in so many phases. Yet it presents a different Detroit than what the Motor City was decades ago.
Orr is here for an 18-month assignment. The governor has made his appointment. The city and its leaders must deal with the fact that he's here now. No amount of pressure will force the governor to back away from this appointment because he's made it clear that he wants Detroit to succeed even though the city did not vote for him. He said if Detroit succeeds it's a story that all of Michigan can celebrate.
So he appointed a lifelong Democrat and a member of the Obama 2012 campaign finance team to come and restructure the finances of the city.
True, it is a bitter pill for the city's elected leaders who strongly believe anytime a Republican administration reaches out to help a heavily Democratic base, it must be greeted with a sea of skepticism because history often has shown that the desire to assist the city was not rooted in sincerity.
But Snyder has maintained very strongly that he is indeed sincere about helping Detroit, starting with his election victory party at the Westin Book Cadillac in downtown Detroit as opposed to Grand Rapids, as well as inviting Detroit Mayor Dave Bing to moderate his inauguration as governor.
His public backing of a lighting authority to turn the street lights on in Detroit, and a regional transit authority, both of which have huge significance for Michigan's largest city his supporters say show a governor who unlike others in the past (except Governor William Milliken) wants to have a Detroit agenda.
Yes, history has shown that deep ideological battles have divided Detroit and Lansing, and the perception that has been created by politicians on both sides of Eight Mile have not helped to bring the region together to fully embrace its most significant city, home of the American auto industry.
Despite its role as the engine of Southeast Michigan, Detroit is still shaped and defined by its past both, by leaders representing this majority African-American city and those representing suburban cities. Any attempt to define Detroit in its current dispensation is met with resistance and angry responses that seek to drag the city into the past, not into the future.
In fact, a suburban leader once lamented to me at a meeting that "anytime we reach out to support Detroit and programs in the city, we were always told, we don't need your help, stay away." He blamed part of that to the attitude of some of his colleagues in their political posturing on issues that cut across communities.
A case in point has been the Detroit Water and Sewerage Department, the only city entity that doesn't bleed a deficit. The water department, which provides fresh water for regional communities, has long been a racial powder keg by politicians who use it to stoke the fears of their constituents as well as those who cleverly utilize it for political grandstanding.
That explains why the water department has been a symbol of conflict instead of cooperation because using it as a wedge issue proves beneficial for politicians who have nothing else to pander to but to fears of their voters.
The opposition to Orr's appointment is fueled by that history, laden with a litany of instances where Detroit wrongly got the shaft, and still is recovering from that history as it undergoes a new dispensation.
It's a new day and Detroit cannot be stuck in the past even as the past provides a logical and historical framework from which to gauge the current dispensation. If our leaders were truly honest and worked to bridge the divide, shown interest and concern for the majority of those who are innocently trapped in inexcusable social malaise, we could be much further ahead.
However, Snyder's support of right-to-work legislation after his promise to stay away from any such "divisive" issue only helped to heightened suspicion and did not help the governor quell his skeptics in Detroit.
Even though some of the governor's supporters argue that right-to-work — the result of the deal that went bad between labor leaders and the governor's office — belongs exclusively to labor and should not be generalized as an issue specifically tailored to a certain group of people or community.
Yet, the fact remains that the city is a creature of the state and we don't expect the state to abandon Detroit at its most economic perilous time.
Sometimes political decisions are gambles, just as President Obama gambled with the auto industry by coming in to rescue General Motors and Chrysler. And it paid off for the president during his reelection campaign in Ohio and Michigan and sunk the campaign of his chief opponent, Mitt Romney, whose gamble that the auto industry should be left to go under did him no good during the campaign. His own words written in a Wall Street Journal editorial came back to haunt him and the Republican nominee could no longer defend himslf. He kept putting new spins on his comments, but Obama prevailed.
If Orr succeeds in financially restructuring Detroit and city services become more efficient than they have been, Snyder will be vindicated.
Change sometimes is needed, but the question is, what kind of change?
Mother Theresa said, "I alone cannot change the world, but I can cast a stone across the waters to create many ripples."
Is Orr the stone that will create ripples in Detroit?
What will Orr achieve on July 3, when he will mark 100 days in office?
We know Detroit's problems are many but can neighborhoods where children walk in the dark from school finally be lit?
Will local government reprioritize to ensure that we open recreational centers in neighborhoods where residents are have families or plan to?
Will senior citizens continue to be prisoners in their own homes because their neighborhoods are so ridden with crime and they no longer bother to call the police because of past experiences?
How many of the city's books can Orr straighten out in 100 days?
How many abandoned buildings that are safety hazards can be demolished in 100 days?
What will the city be pointing to in terms of generating revenue in 100 days?
If Orr can find an answer to some of these questions, the city and its residents will be far better off.
Bankole Thompson is editor of the Michigan Chronicle and the author
of the forthcoming book "Rising From the Ashes: Engaging Detroit's Future With Courage." His book "Obama and Black Loyalty," published in 2010, follows his recent book, "Obama and Christian Loyalty" with an epilogue by Bob Weiner, former White House spokesman. Thompson is a political news analyst at WDET-101.9FM (NPR affiliate) and a member of the weekly "Obama Watch" Sunday evening roundtable on WLIB-1190AM New York and simulcast in New Jersey and Connecticut. E-mail bthompson@michronicle.com or visit his personal page at www.bankolethompson.com.
About Post Author