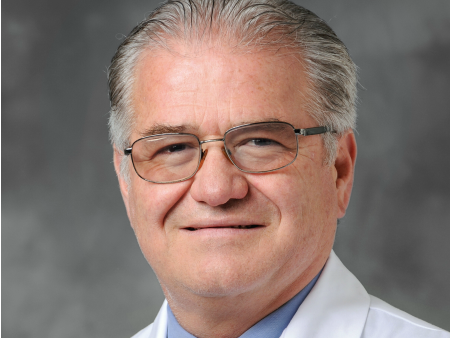 DETROIT – A team of doctors at Henry Ford Hospital is the first in the world to successfully repair a hole in the heart and open five blocked blood vessels in a complex, two-stage catheterization procedure.
The initial March 13 procedure used the Impella CP, a left ventricular assist device (VAD), to stabilize the patient and allowed the hole in the heart's ventricle (lower chamber) to be closed. A VAD is a mechanical pump that helps move blood from the ventricles to the body. VADs are used in patients with weakened hearts or heart failure.
Retired plant engineer Joseph Mehal, 84, of Plymouth, hadn't been feeling well for more than a week. He had no appetite and thought he might have the flu, but he had no chest pain or other classic symptoms to indicate a possible heart attack.
An emergency department physician diagnosed a heart attack, and Mehal was rushed to the cardiac catheterization lab.
The team was led by Drs. William O'Neill and Adam Greenbaum of the Center for Structural Heart Disease at Henry Ford Hospital.
"The Impella CP device was essential in allowing us to enter the heart and successfully close the defect, and it kept the patient alive while catheters were in his heart," says Dr. Greenbaum.
Once the hole was closed, the patient returned to the cath lab 36 hours later and had complex stent therapy to open five blocked blood vessels.
"Closing the hole in the ventricle and high-risk angioplasty have been performed successfully before, but never together in one patient who was in cardiogenic shock," says Dr. O'Neill.
Mehal is recuperating in the hospital and his doctors are optimistic that he will return to normal activity.
"My liver and kidneys were failing," says Mehal. "Thanks to fast action and expertise, not only was my life saved, but my kidneys have recovered. My nephrologist said I was one day away from needing dialysis."
Dr. O'Neill is an internationally recognized cardiologist, who was a pioneer in the use of angioplasty for treatment of heart attacks, now the primary therapy used throughout the world. He is the architect of non-invasive heart surgery, performing the first heart valve replacement through a catheter in North America in 2005.
A long list of his career accomplishments includes:
• First in the U.S. to use a heart-cooling procedure to reduce heart-attack damage. Lowering body temperature up to 9 degrees Fahrenheit through a chilled IV solution has shown promising results in protecting a patient from brain damage after a heart stops.
• First in the U.S. to use stem-cell therapy for heart repair.
• First in U.S. to implant donor vein stents through a catheter to repair leaking arteries.
• The only successful triple heart valve repair through a catheter in pregnancy, allowing the pregnancy to continue, which open-heart surgery would not.
"Approximately one quarter of American adults has some type of structural heart defect," says Dr. O'Neill. "Treating structural heart disease with catheter-based techniques and less-invasive surgeries is the next frontier in cardiology."
For more information on the Center for Structural Heart Disease at Henry Ford Hospital, click here.
If you would rather not receive future communications from Henry Ford Health System, click here.
About Post Author