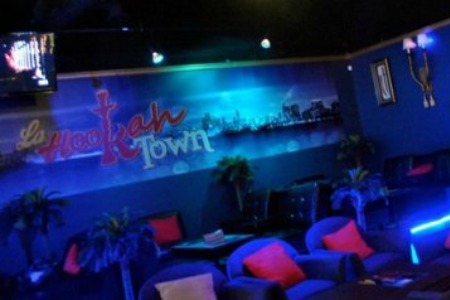 When the Grace of India restaurant opens its doors in Detroit's Midtown this Thursday, owners Salman Sufyan and Abedullah Alaswadl will have a lot to keep themselves busy — it's the second business they've opened in the last few months. Fortunately, the pair's other venture is just steps away.
In December, the two businessmen opened La Hookah Town, next door to the restaurant, on Second Avenue and Prentis Street. People come to the lounge to use hookahs, traditionally Middle Eastern water pipes used to smoke flavored tobacco, which are legal for those age 18 and up.
"The idea was always there, but the location was important. When you go to Dearborn, Sterling Heights, hookah bars are everywhere," said manager Tony Jamal. "Around here we couldn't find any."
The storefront, recently occupied by the Thistle Coffee Shop, appealed to the owners in part because of its proximity to nearby Wayne State. Jamal said hookah is popular with college students. The hookah bar has free wifi, and during the day, students stop in between classes or grab a table to study.
Read more at http://www.huffingtonpost.com/2013/03/18/grace-of-india-detroit-la-hookah-town-_n_2827755.html?utm_hp_ref=detroit