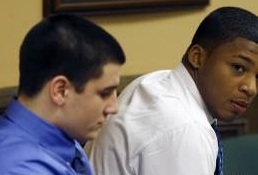 By Chelsea J. Carter, Poppy Harlow and Brian Vitagliano, CNN
Editor's note: Please note this story contains graphic language.
Steubenville, Ohio (CNN) — A judge found two Steubenville star high school football players guilty Sunday of raping an allegedly drunk 16-year-old girl.
Judge Thomas Lipps announced his decision after reviewing evidence presented over four days of testimony in the case against 17-year-old Trent Mays and 16-year-old Ma'lik Richmond, who were tried as juveniles.
Mays and Richmond were tried before Lipps, a visiting judge, without a jury. The trial moved quickly — and through the weekend — to accommodate the judge's schedule.
They face the possibility of being jailed until they are 21.
The ruling brings an end to a trial that has gained national attention for its lurid text messages, cell phone pictures and videos, and social media posts surrounding the alleged sexual abuse of the girl.
Prosecutor: Teens bragged girl was dead
Lords: No sympathy for rape suspects
Porn star: I was raped in Steubenville
Witness testifies in Steubenville rape
Mays and Richmond had been accused of raping the girl during a series of end-of-summer parties in August 2012.
According to prosecutors, Richmond and Mays each penetrated the alleged victim's vagina with their fingers, an act that constitutes rape under Ohio law if it is not consensual.
Attorneys for the two boys had said they were not guilty.< /p>
CNN's policy is not to identify alleged victims of sexual assault. CNN is not naming the minors who are testifying but is identifying Mays and Richmond, whose names have been used by court officials, their attorneys and in multiple media accounts.
At the heart of the case was the question of whether the alleged victim was too drunk on the night of August 11 and the early morning of August 12 to understand what was happening to her and to consent.
Trial focuses on text messages
CNN's Poppy Harlow reported from Steubenville, Ohio, and Chelsea J. Carter reported and wrote from Atlanta. CNN's Yon Pomrenze contributed to this report.