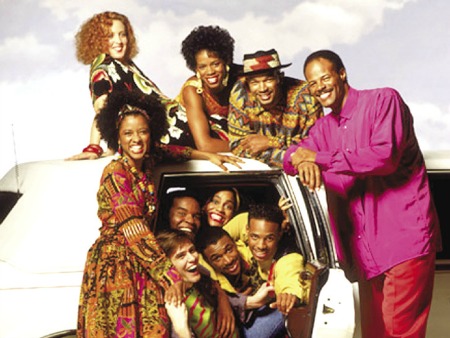 For a while there had been talk about the possibility of bringing back "In Living Color," the groundbreaking, innovative sketch comedy show that ran from 1990 to 1994.
But according to its creator, Keenen Ivory Wayans, that is not going to happen. As he put it, "After a lot of thought and discussions, I realized that the bar is set really high and if you're not going to pass that, then it's better to let it alone."
He is 100 percent correct. A new "In Living Color" would almost surely come up short. The show has its place in history, and you can buy the series on DVD to be enjoyed today, but that is where it should end.
The "In Living Color" performers were fantastic, and the skits and characters were among the best ever and most memorable. The cast included Keenen Ivory Wayans, Tommy Davidson, Kelly Coffield, Kim Wayans, T'Keyah Crystal Keymáh, Damon Wayans, Jamie Foxx, Kim Coles, Jim Carrey and David Alan Grier, among others.
The fifth season of "In Living Color" was far below par because by then the Wayans had left the show.
NO ONE expected an album from the great Jeffrey Osborne (what a voice!) consisting primarily of standards and pop tunes. But "A Time For Love" is a beautiful, warm, relaxing listening experience, for mature adults.
"This album is something I've always wanted to do," said Osborne. "Despite my love for Motown and doo-wop, I grew up listening to the jazz and standards my father and older siblings were playing."
To get a feeling of intimacy, Osborne recorded live in the studio with the musicians.
Among the most outstanding selections on the set, which was produced by George Duke, are "Teach Me Tonight," "When I Fall in Love," "The Shadow of Your Smile," "My One and Only Love," "You Don't Know What Love Is" and "Nature Boy."
"A Time For Love" is class.
KELLY ROWLAND expressing herself about the publicity-seeking Keyshia Cole is understandable, but on the other hand, she just gave Cole what she was hoping for — media coverage.
Cole had been highly critical of Destiny's Child member Michelle Williams, claiming her performance was lacking during the Super Bowl halftime show, as compared to Rowland and Beyoncé.
"We had a wonderful performance and that's all I care about," said Rowland. "I was with my sisters. We matter to a lot of people. I really don't care what she said."
Fantasia has a new album titled "The Side Effects of You" that should be released by the time you read this.
It had been announced that Lenny Kravitz would be portraying Marvin Gaye in the long-delayed biopic on the legendary star. But Kravitz has dropped out and been replaced by Jesse L. Martin, who has a lot of TV and film credits but is best known for the years he spent on the long-running TV drama "Law & Order."
WHEN YOU watch reruns of "Soul Train" (they are shown on WXYZ, Bounce TV, Channel 7-3), it is hard to believe that Don Cornelius is no longer with us in the physical realm, and that he took his own life because of health and personal problems.
But it is not a surprise that the public knew nothing about his issues because as his son, TV producer Tony Cornelius, has pointed out, his father was a very private person, a fact confirmed by Vicki Abercrombie (now Vicki Abercrombie-Walker), one of the regular dancers during the early to mid '70s golden era of the iconic dance/entertainment show.
"I got along with him, I could easily go up to him," said Abercrombie-Walker. "But overall, he isolated himself. He definitely drew a line. He didn't allow people to get too close to him. We knew Don, but then again, we really didn't know him."
NOW BACK to Keenen Ivory Wayans. He made a statement recently that has left many people surprised and puzzled.
"What people don't understand is that comedy is a mask for pain," he said bluntly during a recent interview. "People who are innately funny are innately disturbed."
He may be largely correct. I conversed with one of the industry's most famous funnymen and, offstage, he was not the least bit humorous.
No doubt the great actor Laurence Fishburne is still feeling bad about his daughter's decision to become a porn actress, something she said she "always wanted to do."
Yours truly has nothing against adult entertainment, but it is understandable how Fishburne feels. Unlike most porn stars, Montana Fishburne has been known to use her real name; at other times she is "Chippy D."
Which brings to mind the fact that actor Larenz Tate ("Love Jones," "Why Do Fools Fall in Love?," "Ray," etc.), if he is aware of it, cannot be pleased with the fact that there is a porn actor who calls himself "Larenz Taste."
Correction: In a recent column I said Motown once released a single titled "Too Hurt to Cry, Too Much in Love to Say Goodbye" as a Marvelettes record even though the Andantes did not all of the singing. Actually, the lead vocal was done by Gladys Horton of the Marvelettes with the Andantes providing the background harmonies.
BETCHA DIDN'T KNOW….that Jimmy Ruffin had to practically beg the Motown decision makers to allow him to record "What Becomes of the Brokenhearted?" which, of course, became a classic. He was going through bad times and knew that he could put genuine emotion into lyrics.
MEMORIES: "I Just Called to Say I Love You" (Stevie Wonder), "Belle" (Al Green), "Bad Luck" (Harold Melvin & the Blue Notes), "There It Is" (Tyrone Davis), "Love Rollercoaster" (the Ohio Players), "Do Me Baby" (Meli'sa Morgan), "Key to the World" (L.J. Rey­nolds), "B-A-B-Y" (Carla Thomas), "How Can I Ease the Pain?" (Lisa Fischer), "Rhythm of the Night" (DeBarge).
BLESSINGS to Michael Walker, Pam Woodside, M.L. Elrick, Chuck Bennett, Freddy Anderson ("Fast Freddy"), Shirleen Fort, Bud McQueen, Anita Baker, Diane Perkins, Ken Donaldson and Horace Boyington.
WORDS OF THE WEEK, from Carmelo Anthony of the New York Knicks: "Never let anyone define your reality."
Let the music play!
(Steve Holsey can be reached at Svh517@aol.com and PO Box 02843, Detroit, MI 48202.)
About Post Author