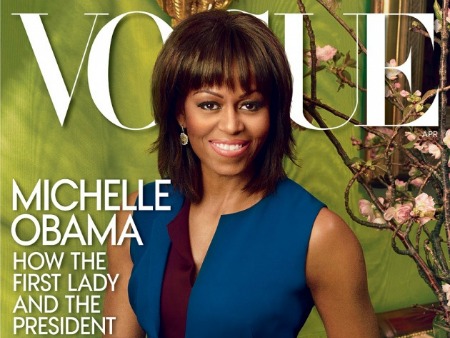 Thanks to thirsty Internet junkies, Michelle Obama's Vogue cover for April 2013 has arrived a few weeks early. Whether we are to believe that some clueless intern at Conde Nast is tweeting these pictures, or publishers are smarter than we think–doesn't matter much to me, I am thankful! Our FLOTUS looks stunning for her second appearance on the fashion bible wearing a vibrant blue dress from Reed Krakoff.
Michelle gives a candid interview about the stress and pressure of her role, her beyond inspiring relationship with her husband, and how she puts her family first.
"Our job is, first and foremost, to make sure our family is whole. You know, we have small kids; they're growing every day. But I think we were both pretty straightforward when we said, `Our No. 1 priority is making sure that our family is whole,'" Mrs. Obama said in the interview, a copy of which was provided to The Associated Press before the magazine hits newsstands on March 26.
What is there not to adore about this woman? Supermom, Superwife, SuperFLOTUS–we love her. We're not alone right, chime in below and let us know what you think of this cover!?